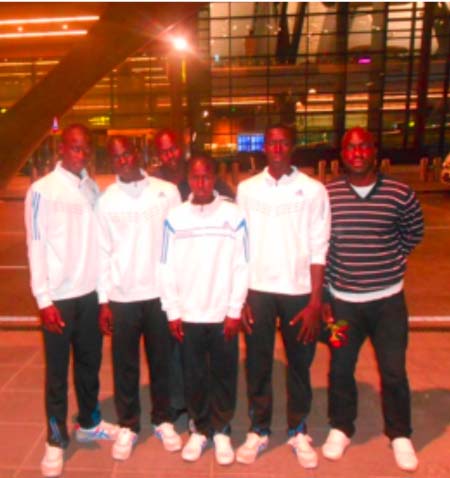 The national swimming team yesterday, Monday 8th December 2014 returned home from the just concluded 12th FINA World Swimming Championship held in Doha, Qatar between 3rd to 7th December 2014.
The world class event was a great phenomenon with conglomeration of myriad programs on the exciting city of Doha.The city held for the first time the 1st FINA Youth Program, FINA adjustment program forFINA officials and the short course (25 meters) World Swimming Championship all inclusive.
The goal of the Youths Program was to inspire and motivate the young talented swimmers to become the stars of tomorrow; Promote the communication & friendship among the program participants; provide an overview of the latest training trends & techniques by world class coaches as well as showcase the cultural history, tradition & heritage of the State Of Qatar.
A maximum of 2 athletes and one coach; 1 Boy (14-16 years old - born between 1999 and 2000 only) and/or 1 Girl (14-16 years old – born between 1999 and 2000 only) where nominated by each NF.
Sirre Kaita and Momodou Lamin Saine from Bakau, participated in the non-competing Youths Program. Whilst Pap D. Jonga from Barra competed in the short course 50M freestyle with a an entry timing of 40.12sec with finish timing of 30.37sec and a FINA ranking of 167. Omar Darboe from Tanjai also competed in the same race (50 meter freestyle) with an entry timing of 41.27sec and a finish time of 32.73 with 172 FINA ranking.
According to the national team coach (Raoul Sambou), this was a great achievement for his team. They had little preparation both financial and physically but managed to knock- off their timings with almost 10sec down from their entry timings. "They just have to work hard and focus on their target.' He said.
A team of 6 was received by representatives of the Gambian Embassy in Doha City. This was headed by the Vice President of the association Mr. Amadou Danso, who doubled as a coach for the Youth Program.
Read Other Articles In Article (Archive)