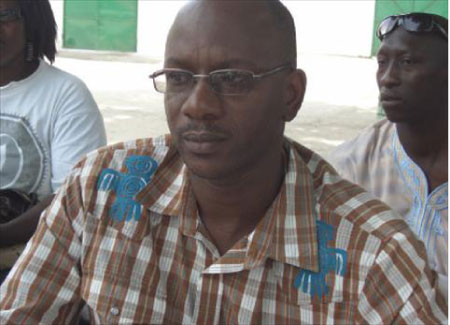 The Gambia Basketball Association (GBA) national league will today, Friday 21 February 2014 get underway with Wallidan taking on Sporthouse at the Manneh Sillah Basketball Court in Banjul at 5:30pm.
Serrekunda West will on the same day and ground lock horns with Saints at 7:00pm while YMCA will face Brikama at 6:00 on the same day at Brikama.
Speaking at a media briefing on Wednesday at the American Corner, Comium Head Office ahead of the commencement of the league, Papa Njie, president of GBA, said they were able to have a team that was able to implement a successful 2013 league.
This year will be a bit different, he said, adding that he looks forward to a very successful season.
Mr Njie revealed that they are expecting an electronic scoreboard from America soon, which will be used at the Independence Stadium.
He also spoke about the importance of the general public coming out to watch basketball games for them to be able to sell their products and services and also attract sponsors.
He further spoke about the need to have an indoor basketball court to take basketball to the next level.
Teams have been divided into North and South zones to avoid playing up to the rainy season, he highlighted, saying each team will play one game out of their zone and two games within their zone.
At the end of the season they will have seeding and then have play offs, he added.
Without referees there would not be a basketball league or season in The Gambia, he stated, saying they have new referees and would not let them sit on the benches on the altar of waiting for them to mature but would rather give them the chance to officiate matches.
Coaches have to accept decisions that are made be it against or in favour of them, he remarked, saying they will protect this young referees because they need them since the Peace Corp volunteers will be leaving very soon.
He begged the coaches, players and supporters to be patient with their young referees.
He also thanked the Peace Corps, referees, committee members, the media and everyone.
Abdoulie Bojang, Secretary General of the GBA, in his remarks, said they had a successful 3-on-3 basketball tournament while the late Pa Modou Sarr Memorial Basketball Tournament also went well.
The league was successful last season but also went with challenges, he stated, noting that after several years of not having basketball competitions, it is difficult for them to come in and organise a tournament.
The executive members and teams will share the hiccups, he noted, saying they have all learned lessons and hope this time it is going to be a far better season than last year.
They are always proud seeing their female referee officiate games, he said, adding that they hope to see more of her colleuges come on board to officiate not just female matches but also male matches as there is no boundary to what games she can officiate.
They will not compromise time this season, he went on, assuring that the referees and whoever is assigned as match commissioner will be on the ground on time.
He called on coaches not to hold the tournament rules to themselves but extend it to their players so they can understand what the rules are.
Everybody complained about the prizes last year but they staged 5 tournaments last year and gave each participating team a certain cash amount in addition to the trophies and medal they gave out, he remarked, promising teams that they will call up another press conference in the near future to tell them exactly what the prize monies are for this year's league so they will know what they are playing for.
The Gambia has been targeted by FIBA (Zone II) to host the zone II in the country, he said, adding that they are waiting for a formal notification, meaning they have to prepare their players.
"We are telling them (FIBA) that it is going to be at the end of the year so that we will have time to prepare ourselves and make sure we have a team that has been blending together and understanding each other, so that we can make a good presentation and represent our country well," he added.
 It is something they can consider, he went on, saying the zone II is not a big zone and he thinks they can handle it as they have at least handled a three-nation tournament.
"We will wait for the formal notification and pass it to the authorities for their blessing," he also noted.
Moses Njie, chairman of the Referees and Technical Committee of the GBA, said referees are arbitrators and are there to judge, adding: "You cannot have any sport or discipline without a referee."
He expressed his willingness to go to clubs to help them interpret the FIBA rules and rules governing the league to reduce controversies during the course of matches.
They do not want issues where disciplinary measures will be taken against anyone, he said, noting that coaches and players should respect referees.
Teams should be at least at the ground 30 minutes before kick-off, he added, while also calling on teams to come up with proper jerseys and numberings.
The numbers allowed by FIBA is from 4 to 15, he went on, saying that is what they would go by unless teams wanting to use different numbers write to the association to seek permission.
He also spoke about the issue of players coming to play with long finger nails, ear rings, rings and bangles, saying they will not allow such as it can cause injuries to players.
The association is doing its utmost best to equip referees despite the high cost of materials and the association's limited funds, he said, noting that "from now on referees will not officiate games without proper uniforms".
He called on teams to give support to and encourage female referees, who, he noted, are learning and should not be intimidated.
Read Other Articles In Article (Archive)