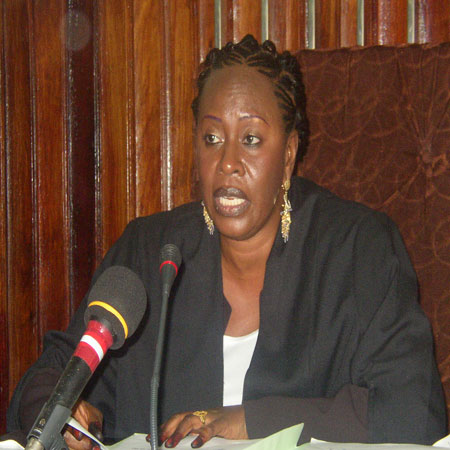 Last Friday was another important day for the National Assembly Members and representatives of schools from the Greater Banjul area as they commemorate this year's Commonwealth Day in the form of a symposium.
Speaking on the occasion, the Speaker of the Assembly, Madam Fatoumatta Jahumpa-Ceesay, stated that the London Declaration of 1949 was the start of a new era in which our member countries committed themselves to work together, in partnership and as equals, towards a shared future.
According to her, Commonwealth has evolved out of all recognition from its beginning, adding that it has helped give birth to modern nations and its member countries have become fifty-three.
"Our beliefs in freedom, democracy and human rights, development and prosperity, mean as much today as they did more than half a century ago," she added.
She further reiterated that as we reflect upon our long association, there is a need to recognize the challenges that lie ahead, noting that nearly one billion people of today's Commonwealth are under 25 years of age and these are the people that this association must continue to serve in the future.
She also demonstrated that "as the Commonwealth celebrates 60 years, its governments and communities joined together in a collective spirit built on lasting principles, wisdom, energy and creativity to meet the great tasks of our times".
Giving the history of the Commonwealth, Hon. Sulayman Joof revealed that the Commonwealth originated from Britain, a former empire, and many of the members of the commonwealth were territories, which had historically come under British rule at various times by settlement, conquest or cession.
According to him, the administration of such colonies evolved in different ways to reflect the different circumstances of each territory until 1949 when the member states of today's Commonwealth were united through common allegiance to the British Crown. He added that after the Second World War, many countries sought their independence in 1947.
"As the queen declared in a silver Jubilee speech in 1977, it symbolises the transformation of the Crown from an emblem of dominion into a symbol of free and voluntary association," he added.
According to him the term 'Commonwealth' was first used by British Liberal politician, Lord Roseberry in Australia in 1884 during a speech in which he referred to the British Empire as a Commonwealth of Nations.
For his part Hon Fabakary Tombong Jatta maintain that since the inception, the Commonwealth has been involved in many programmes geared towards the development of professional knowledge-based parliamentarians through promoting knowledge and skills and by supporting efforts that improve effectiveness and sustainability.
Read Other Articles In Article (Archive)