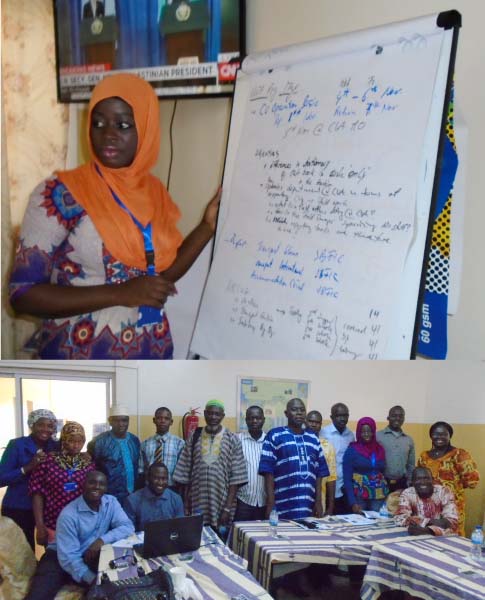 The National Association of Cooperative Credit Unions of The Gambia (NACCUG) on Tuesday ended a two-day training workshop for seven credit unions under its Kanifing chapter. 
Held at its head office in Kanifing, Bertil Harding Highway, the capacity building workshop was designed to equip the participants on social performance planning and management, and other cross cutting issues such as gender, and HIV and AIDS.
The programme is part of a project NACCUG is implementing with the financial support of the Irish League of Credit Unions Foundation.
The lead facilitator of the training, Sainabou Sonko, said the programme was to make the credit unions aware of their social responsibilities so that they can formally incorporate it in their strategic plans.
Ms Sonko, who is the social performance management officer of NACCUG, said although some credit unions are involved in social performance, they do not always have specific tools or processes for measuring or managing it.
Therefore, the training is expected to empower the participating credit unions to be engaged in systematic and sustainable social management that will bring social benefits to their members and to the wider community.
"The purpose of social performance management is to serve clients better," Ms Sonko said.  "By monitoring progress towards your social objectives, you will know where you are and where you have to go."
She said credit unions should invest in social performance management to offer the most appropriate and relevant services to members.
According to her, social performance is not incidental; institutions must define desired performance, for example, by setting goals for rural outreach or client protection. 
Also, credit unions must measure progress towards the desired performance by tracking and quantifying the result towards the social goal.
Besides, through social performance, institutions can use client data to inform decisions about products and services, use client survey results to inform services to offer.
Some common social missions that credit unions can aim for include serving increasing numbers of poorer and more excluded people sustainably; improving the quality and appropriateness of financial services through assessment of clients' needs; and improving social responsibility towards clients, employees and communities.
Read Other Articles In Article (Archive)