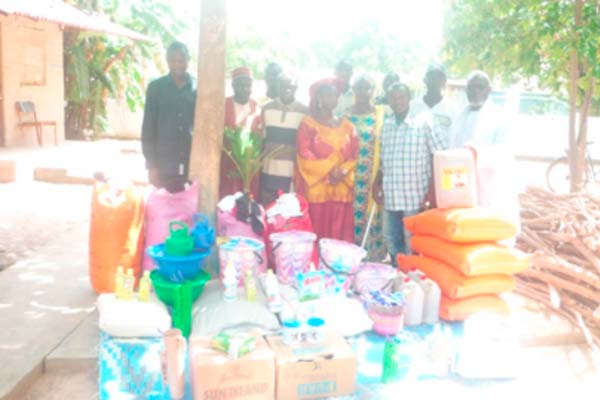 Global Initiative for the Support of Persons with Disability (GISPD) The Gambia, a registered charitable organisation established by Ousman Jallow, a Gambian-based in UK, Tuesday donated food items among other valuable materials to GADHOH School for the deaf and hard of hearing in Brikama.
The materials, which included 4 bags of rice (50kg), a bag of flour (50kg), a bag of sugar (50kg), a bag of corn flour, cooking oil, sockets of soap (madar), hand-washing pans, groundnut paste, fuel wood, a carton of condensed milk, a carton of tea, cups, plates, spoons, used clothes, among others, cost over D18,000.
In his remarks, Yankuba Kujabi, Special Needs Education at the Education Directorate Region 2, said the provision of the materials would motivate the pupils to go to school regularly and be ready to learn.
Mr Kujabi noted that the meals cooked daily should be a quality and balanced diet, so that the pupils would develop holistically.
The education policy had catered for equal opportunities to education to all children, including children with disability, he went on, adding that students with disability are excelling very well in schools and other institutions of higher learning such as GTTI, MDI, Gambia College and the University of The Gambia.
Mr Kujabi urged parents not to marginalise or discriminate them, but instead take them to school as they are people with great potentials who could contribute positively to the development of the society.
Bintou Cham, Mother of GADHOH School for the deaf and hard of hearing Brikama branch, said Mr Jallow was not only supporting the disabled and the poor, but the entire Gambian population.
Mrs Cham urged others to emulate him as they always need support for the school.
Karamo Sanyang, head teacher of the school, said when a child is hungry he/she finds it difficult to concentrate in class.
He stated that they were having a project, but since it elapsed in 2013, children have been finding it difficult to focus in class as they were used to eating at school every day.
Awa Sanneh, head teacher at Kabafita Nursery School, thanked GISPD for complementing the government's efforts, adding that it was their obligation to support disabled students as they are like any other pupils in other schools.
Sometimes people tend to forget about people with disability, she observed, and therefore encouraged others to emulate the GISPD.
Ansumana Sanno, co-coordinator GISPD, said they are currently sponsoring 30 students across the country, due to their limited resources.
He said the importance of education could not be overemphasis, and as such children could not learn with an empty stomach.
As a young organization, they need collaboration and partnership from the government and NGOs, he added.
Read Other Articles In Article (Archive)