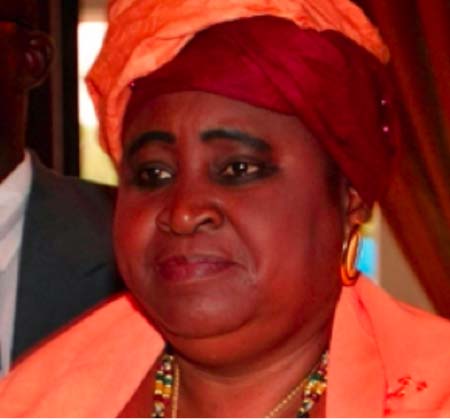 Members of the National Assembly yesterday passed the Women's Amendment Act 2010 bill to prohibit female circumcision and matters connected therein.
The bill was presented before the National Assembly members by the Vice President and Minister for Women Affairs, Isatou Njie-Saidy.
The Women's Act, according to the Vice President, referred to as the Principal Act was amended, by inserting immediately after section 32 the following new section: Section32A "prohibition of female circumcision": A person shall not engage in female circumcision, and a person who engages in female circumcision commits an offence and liable for a conviction."
Hon. Abdoulie Saine, member for Banjul Central, thanked the Vice President for tabling the bill before deputies, noting that the bill was very important and urged his colleagues to adopt the bill.
Before enacting the bill, FGM was happening and now the President had changed it because it is a harmful thing and he did not want anything that would harm human beings, Saine said.
Hon. Badou Gaye Sonko, nominated member, also thanked the Vice President, adding that FGM had been a longstanding issue.
He told deputies that before the declaration of the ban many people did not know whether it was a harmful thing.
Though the bill had been adopted by deputies, it was the responsibility of the National Assembly and civil society to sensitise the people about its harmful nature, he added.
Local Government Amendment Act Bill 2015
Meanwhile, in the same session, NAMs adopted the Local Government Act Amendment Bill 2015 presented by the Minister for Lands and Regional Government, Momodou Aki Bayo.
Presenting the bill before deputies, Bayo said the bill would promote government programmes at the regional level, implementation of development programmes and activities, as well as to foster peace-building and conflict resolution at regional level.
Minister Bayo further informed deputies that the bill would also provide an avenue where governors and mayors could share relevant information and best practices in the execution of their functions.
With regard to alkalolou, the benefits and advantages are to promote peace, security and stability and settle disputes and to safeguard the traditions, customs and cultural norms and values, as well as protecting the environment, he said.
For the National Council of Elders, he added, the benefits and advantages are that they are to be advisers to governors, seyfololus and alkalolou, as well as ensure set-setal at the local level.
As for the Local Government Service Commission, the benefits and advantages are that it would provide a unified local government service commission which would ensure efficient recruitment, and promotion of staff.
For the Municipalities and Area Councils, it would empower the municipal and area council police for more responsiveness in the maintenance of peace and security in their respective communities, and enhance effective local government administration.
Read Other Articles In Article (Archive)