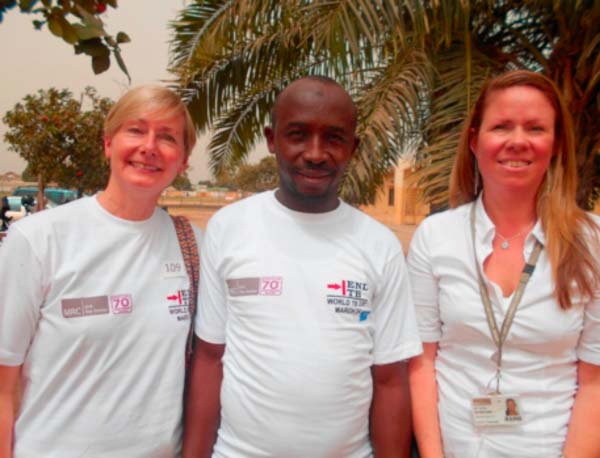 Medical Research Council Unit (MRC) The Gambia recently organised sensitisation campaign for the communities of Latrikunda, Abuko, Sinchu Baliya, Sinchu Sori and Wellingara on the transmission of tuberculosis and its dangers.

The exercise was held at O.B. Samega Janneh Hall in Latrikunda as part of the commemoration of World TB day.
Speaking at the sensitization forum, Prof Beate Kampmann Theme, leader of vaccine and immunity at MRC Unit The Gambia, said the sensitisation was conducted to raise awareness on the dangers of TB and its mode of transmission and prevention.
She said considering the danger of TB, millions of people around the globe die as a result of TB and Gambia was not an exception.
Prof Beate said MRC staff wanted to create awareness for the community to know that the disease is killing millions of people in the world.
"TB is a problem in The Gambia," she said, adding that the situation had led them to convene a sensitisation for big communities to ensure they put TB to an end in The Gambia.
She said: "We need to educate people and to understand that it is a curable disease," she said.
MRC embarked on community sensitisation to educate the people on how TB is treated and the danger attached to it in the event of failing to visit the hospital at the right time.
Prof Beate Kampmann Theme said anybody affected by TB could visit MRC and would be treated, saying the MRC works with the National TB program in The Gambia.
For his part, Dr Abdou Sillah, appointed group leader of LTIs and MRC staff, also reiterated the importance attached to the community sensitisation on TB.
He said in The Gambia majority of TB cases is centred in the Greater Banjul Area, adding that the community sensitisation goes across the country.
Although, he added, most of their research centers within the Greater Banjul Area, as over 70 per cent of the TB cases, are diagnosed within the Greater Banjul Area.
Also speaking was Dr Jayne Sutherland, head of TB research vaccines and immunity at MRC Unit The Gambia, disclosed that there are about two thousand TB cases in The Gambia every year and about 70 per cent of them are within the Greater Banjul Area and the rest are within the other parts of the country.
She advised the affected to report to the nearest clinic center for treatment, adding that TB could cause long coughing and losing weight.
Therefore, he added, it was important to educate people about the danger of the disease, saying it could however be cured.
Read Other Articles In Article (Archive)