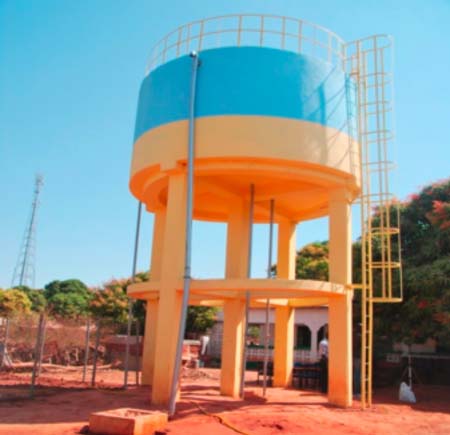 The Medical Research Council, MRC-The Gambia, Saturday commissioned a D4.5 million water project at Keneba village in the Kiang West district in the Lower River Region.
The erected solar borehole with 40, 000-liter tank distributes water through 21 taps in the neighbourhood funded by taxes collected from England with the contribution of MRC-Gambia Unit Director, revealed Professor Andrew Prentice, head of MRC-Keneba.
The construction of the project lasted nine months and the water project would impact the lives of the neighbourhood with the provision of potable water, which would also help reduce sickness.
Speaking at the ceremony, Professor Prentice, said the funds for the project were raised from the taxes collected from the people of England, adding that when the project cost exceeded the available money, the MRC Unit Director helped to ensure the successful completion of the project.
Describing the significance of water, Professor Prentice urged the community to protect the ecosystem, and appealed to them to stop logging in the forest to avoid continuing deforestation and venture into forestation.
He urged the community to look after the project and cherish it for its sustainability, and commended the positive relationship between the MRC and the people of Keneba and the country at large.
MRC-Gambia Unit Director Professor Umberto D' Alessandro described the significance of water for hygiene, which also helps to fight diseases such as diarrhea.
He said the MRC Unit, which has been in the Gambia for over 70 years, has produced quality services in the health sector, adding that the unit also engages into capacity building for young people to better their lives.
LRR Governor Salifu Puye thanked the donors for the gesture, and urged the community to work for the sustainability of the facility.
The Keneba village Alkalo, Hijinkeh Danso, commended the donors for their support, and recognized the long and fruitful relationship between the MRC and the community.
Alkalo Danso assured the donors about the proper care and sustainability of the borehole.
Asenior administrator and project coordinator, Buba Jabang, and village representative, Ansumana Ceesay, among others thanked the donors for the support.
Read Other Articles In Article (Archive)