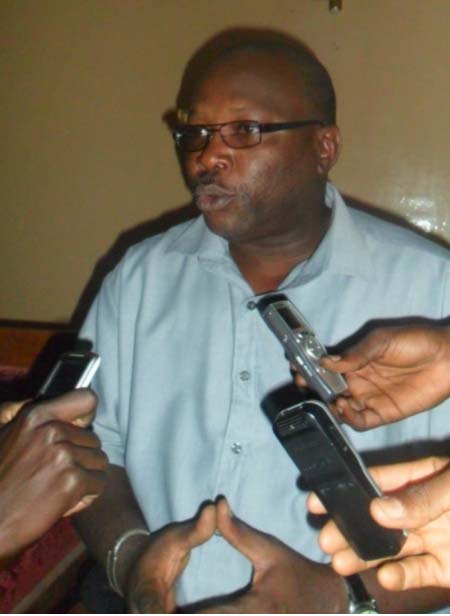 The Ministry of Youth and Sport (MoYS) under the auspices of the National Sports Council will organise this year's May Day sports.
Briefing members of the media yesterday at the Independence Stadium Board Room in Bakau, Abdoulie Momodou Kah, chairman of the National Organising Committee, said the Ministry of Youth and Sports has decided they will organise the May Day Sports under the auspices of the National Sports Council this year.
He added that in doing so they have established various sub-organising committees to stage a successful event.
For the past six weeks they have been having meetings in trying to put the necessary structures in place for a smooth run of the event, Mr Kah also said.
This year the participation fee is pegged at D15,000 per institution or company, he pointed out, saying the deadline for registration is 17th April.
The reason for setting aside the deadline for registration on 17th April is, at the end of the registration, to do the grouping of various companies among other arrangements for the event.
Mr Kah said they have also finalised the date for the famous Sports Banquet, which will take place on 10 May, adding that in the Banquet they will hand out awards to the winning teams of the May Day Sport as well as recognise their partners who have sponsored some parts of the May Day activities.
"Sport gives you good health and what I wish is that May Day will not only be the avenue where workers will go out and do some physical activities," he went on, while expressing delight with the Ministry of Youth and Sports having introduced Sports for Health.
"This means you now have two activities for workers to physically get involved into sports activities," he added, saying he hopes companies will pick it up and start encouraging their workers to involve in physical activities even if it is just for a 45-minute walk after work.
He said all registered companies are welcome to join and partake in the May Day Sport, adding that any company found cheating to be able to partake in the sports may be disqualified.
May Day is to bring people together to enjoy, socialize and move on, he reiterates, saying the winning syndrome came in when trophies were introduced in the event.
"Everybody now wants to be a winner - I have no problem with somebody winning but you have to win with dignity," he stated further, saying cheating of any nature will not be accepted.
"Fair game is now principal in sports – if you have to win, you have to win honourably; you have to deserve the win," he concluded. 
Read Other Articles In Article (Archive)