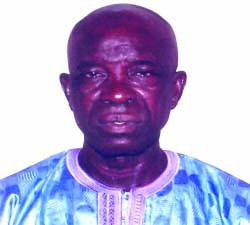 Mr Momodou Dibba
President
Mr Peter PROM
Secretary General
The Gambia National Olympic
Committee
Lausanne, 6 June 2013

Situation of The Gambia National Olympic Committee – Implementation of the roadmap of 10 April 2013

Dear President,
Dear Secretary General,
Thank you very much for your report about the Extraordinary General Assembly of your NOC that was held on 27 May 2013 and for sending us the minutes of this meeting.
We  have  reviewed  these  documents  carefully, and are pleased to confirm that we now consider that the first step of our roadmap of 10 April 2013  (attached for reference purposes) has been successfully completed, and any pending  issues have been clarified bytheGeneral Assembly, as thehighest  decision-making body of your NOC, in accordance with your NOC Constitution and the Olympic Charter and in line with the IOC's instructions.
Now we kindly request that you consider the second and final step of this process, namely the holding of your NOC's Elective General Assembly. Please inform us at your earliest convenience of the date which will be proposed.
We have noted with regret thatafew members decidednotto attend the Extraordinary General Assembly of 27 May, and  in parallel seem to be pursuing  their action beforethe ordinary courtsrather than withinthe NOC legalstructure andrespecting the will ofthe majority of the members and the democratic decisions made bythe competent bodies of your NOC.
As clearly mentioned in our letter of 10 April, this behaviour goes against the principles that govern the Olympic Movement and the IOC's directives and undermines the decision-making bodies of the NOC.
We appreciate the efforts you are making to involve all members in this process, and we request that you continue to do so. However, if a member deliberately refuses to attend the NOC  meetings,  it  must  be  made  clear  that  such  member  automatically  excludes him/herself fromthe process.  In  the end, everyone must respectand be bound by  the democratic decisions made by the competent bodies of your NOC in accordance with your NOC Constitution and the Olympic Charter.
 We hope that reason will prevail and that all members will now join the election process and cease any outside action that would damage the Olympic Movement, the development of sport and the athletes in your country.
It is indeed expected that this process be finalised  as  soon  as  possible  to  put  an  end  to  any  unnecessary  and  unproductive  disputes  and allow  for your NOC and all sole interest of sport and the athletes.
Thank you for your valuable cooperation, and please keep us informed of any developments in this process, which we will keep monitoring closely until it is completed.
Yours sincerely,

Pere MIRÓ
IOC NOC Relations Director
Cc: 
-  Jacques ROGGE, IOC President
-  Intendant General Lassana PALENFO
-  Alieu Kebba JAMMEH, Minister of Youth and Sports, Republic of The Gambia Sports, Republic of The Gambia.
Read Other Articles In Article (Archive)