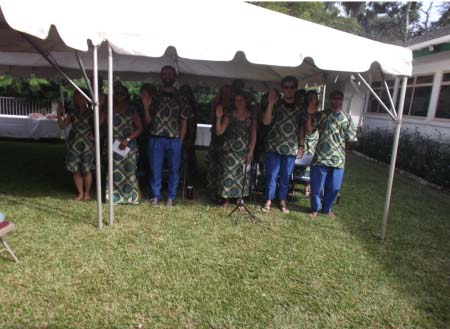 Eighteen United States Peace Corps volunteers were on Friday sworn in after completing their 10-week pre-service training in the country.
They were oriented about the health, education, agriculture and environment sectors of the country some of which they would be working with for two years in various regions of the country.
The swearing-in ceremony held at the US ambassador's residence in Fajara, was witnessed by government officials, US Embassy staff and Peace Corps volunteers.
In his congratulatory remarks, US Embassy Charge d' Affairs to The Gambia, Richard Yoneoka, congratulated the new volunteers for their successful completion of phase one of their pre-service training.
He urged them to learn and adapt, often under condition of hardship, in communities they will be serving.
He further reminded them that as they are set in their adventure to change the world with their service, they would be contributing directly to the economic sustainability, education and future of The Gambia.
As they are being deployed to the various regions, Charge d' Affairs Yoneoka urged them also to remember the purpose of their deployment to the various regions.
He said they would only be loved and remembered for how they would make people feel and that their experience would become the common denominator for their future choices and pathways.
He also said that not everyone is able or willing to take such a challenge and not everyone is able to comprehend as to why they have chosen to render this service, adding that they would surely know and understand the value of the commitment they have made to the service.
The top US embassy official urged the new volunteers to absorb the new culture, live within it but also not to forget who they are.
In his keynote address, the deputy permanent secretary at the Ministry of Health and Social Welfare, Dawda Ceesay, said the health training sector focuses on several of the ministry's priority intervention areas, which include reproductive and child health as well as young child nutrition, malaria control, hygiene, sanitation and HIV/AIDS control.
At the ministry's level, he said they are implementing a comprehensive essential healthcare package that integrates the management of childhood illnesses and promotes reproductive and child health.
DPS Ceesay noted that the Peace Corps environmental sector programme aims at addressing food security and natural resource management issues in The Gambia.
He further pointed out that the Peace Corps health project seeks to assist rural communities to improve garden production sustainability, and increase food production through the adoption of improved agricultural practices and crop diversification.
He expressed government's appreciation to Peace Corps for their contribution to the country's development.
Read Other Articles In Article (Archive)