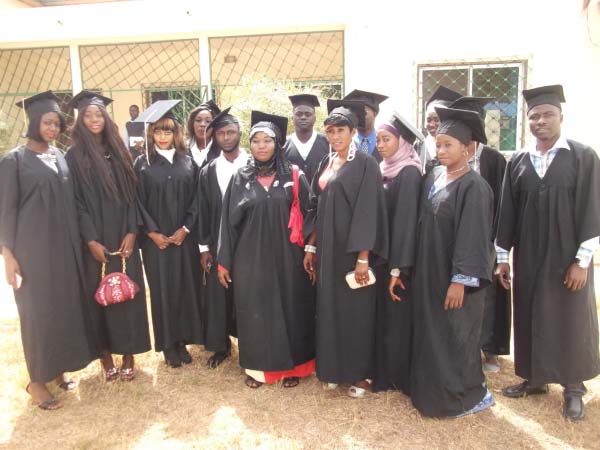 Business Training Centre (BTC) on Thursday held a graduation ceremony for 41 students who have successfully completed diploma courses on various subjects of business offered by the school.
The students, who went through "proper training" at BTC, received in honour, their various certificates on advanced diploma in marketing, business studies, accounting, finance, human resource development, graphic design, banking and finance, tourism, and business studies.
Others received diploma certificates in tourism and business studies, information technology, PC repair and maintenance, and graphic design.
BTC, a learning centre known for its sound lectures and quality service, has so far graduated over 22,000 individuals since its establishment in 1997.
The school, located at 13 Samba Breco Road, Cape Point, Bakau, offers certificate, diploma and advanced diploma courses in various commercial and managerial subjects or disciplines.
With sound and highly qualified lecturers, the centre offers courses on other essential subjects such as English language to give their students sound footing to have a smooth sail in their studies, BTC senior management officials said.
In his remarks on the occasion, BTC Principal Wasiu O. Adebayo said their study programmes are regulated by the National Training Authority (NTA) to ensure more relevance, quality and compliance to the job market and societal needs.
He said they have developed strong ties with employers in the various sectors, whose collaboration and partnership give them direct labour market information that guide them on their curricular development and syllabus contents.
A good number of their students or graduates are able to start their own businesses upon completion of their courses, while others continue to make big impacts in institutions and companies upon employment.
"We train people not only to seek employment but also to be employers of labour," he said.
He commended Rotary Club International The Gambia, and Britain, Japaleh Foundation, Action Aid among others for their partnership and support to the centre and its graduates.
He described the graduates as ambassadors of the school and assured employers of their quality, knowledge, skills and professionalism, which could be of immense benefit to employers.
BTC chairman Bai Matarr Drammeh, who spoke on the significance of goal setting, said goal denotes achievements and signifies progress.
"One needs to know what he or she is looking for to set up a goal, to be able to achieve it through efficiency and productivity," he said, adding that goal setting also considers valuable assets of quality and quantity.
Mr Drammeh said that for one to set up a goal one needs to know the current status of what is happening and what he or she desires to happen in the future.
"It is also significant to have a feedback mechanism in goal setting to be able to move on the right direction," he added, saying:"Take a moment, look at your goal and performance to see whether your behaviour matches your goal."
Read Other Articles In Article (Archive)