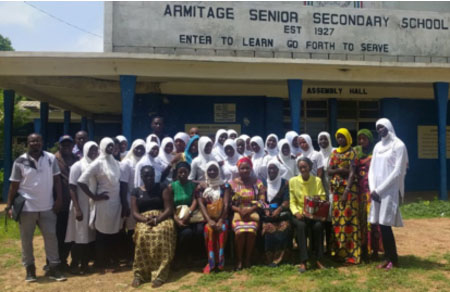 The Ministry of Information and Communication Infrastructure (MoICI) and Public Utilities Regulatory Authority (PURA), in partnership with Girls in ICT Gambia Chapter, has organised a five-day summer tech camp for 30 girls in senior secondary school.

The camp, organised as part of the 2017 Girls in ICT celebrations, started on Monday at Armitage Senior Secondary School in the Central River Region.
Girls in ICT is an International Telecommunication Union (ITU)-backed initiative to empower and encourage girls and young women to consider careers in the growing fields of information communication technology (ICT).
At the tech camp, the 30 girls from senior secondary schools from across five regions of the country would benefit from hands-on training on interactive computer technology.
Aminata Sanneh-Dampha of MoICI said the summer tech camp provided the girls the opportunity to have hands-on experience and also interact with different professionals specialised in the ICT sector who can guide and mentor them on how to develop a career in the ICT sector.
She said it was important that MoICI plays its role in spearheading an extensive campaign in empowering girls and young women in the important role ICT stands to play in their lives.
"We want to engage them [girls and young women] to embrace ICT as there are more opportunities nowadays in the ICT industry worldwide," she said. "In whatever field you find yourself in today, ICT is involved."
Ya Amie Touray of PURA said the 2016 celebration of Girls in ICT was a workshop and job fair but "this year we wanted much more hands on, which is why the summer tech camp was organised".
She said the camp was another form of empowering girls in ICT through training and mentorship.
Vice Principal of Armitage Senior Secondary School Musa Mbenga said the summer tech camp was the first of its kind for the girls in the rural areas to be involved in such ICT training programme.
He commended the organisers for the initiative.
Read Other Articles In Article (Archive)