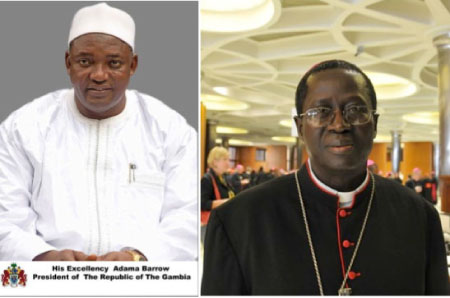 Fajara 16 August 2017 – President Barrow has stressed the importance of peaceful coexistence among Gambians of all faiths. Receiving Archbishop Benjamin Ndiaye of Dakar today, President Barrow spoke of the need for continued religious tolerance between Christians and Muslims in The Gambia.

Archbishop Ndiaye was in Banjul to celebrate the Christian feast of the Assumption – also known locally as 'Sang Marie' – at the invitation of Gambia's Christian community. His visit also coincided with the 60th Anniversary of the Catholic diocese of Banjul.
The Gambian leader spoke of the historic ties between The Gambia and Senegal. He described -Archbishop Ndiaye's visit as one that helped strengthen the family ties between the two countries. President Barrow urged all religious leaders to continue to pray for peace. He told the delegation, which included members of the Catholic diocese of Banjul, that it was peace that inspired the needed investor confidence to promote economic development. Archbishop Ndaiye said during the celebration of Sang Marie yesterday, he was encouraged by the solidarity of Muslim religious leaders from Banjul. He prayed for success and peace for the Barrow administration and for humanity at large.
Archbishop Ndiaye told journalists that The Gambia had been a secular state until the former president declared it to be an Islamic state, which he said almost jeopardized the religious tolerance that Gambians shared. He said new government was here to serve Gambians of all faith and not those of a particular religion.
Vicar Emil Sambou of the local Catholic diocese earlier expressed similar sentiments. He said that the people of The Gambia and Senegal were in solidarity in their belief in one God through different ways. Gambian Fisheries Minister James F.P Gomez praised the maturity that President Barrow demonstrated as a leader in promoting religious tolerance among citizens. Mr Gomez said Christians in the country felt they were part of the government, with the presence of three Christian members in the Barrow cabinet. He thanked the Archbishop for preaching his message of peace.
Others Gambian cabinet ministers present at the meeting were the Minister of Basic and Secondary Education, Claudiana Cole, and Youth Minister Henry Gomez. , Also in attendance was Presidential Adviser on Religious Affairs, Alhajie Dembo Bojang, among other senior officials.
Read Other Articles In Article (Archive)