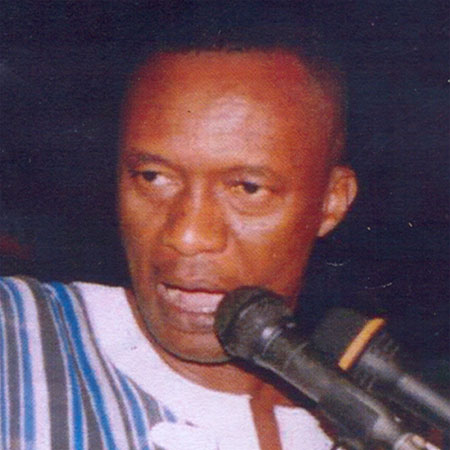 If the vision and mission of Modou Turo Darboe, a trend-setting businessman and a keen philanthropist for this country is any guide, then this man no doubt stands out as a key stakeholder in the socio-economic development of the country. Having recently donated consignment of goods worth thousands of Dalasis to the Gambia Ports Authority, 'Turo Darboe' as he is popularly called, last Saturday presented a cheque of ten thousand dalasis (10, 000) to group 'Dekal Chossan' of Sinchu Sorri in Kombo North, for their Wrestling Competition named after him.
The Wrestling competition, which brought together wrestlers across Kombo North and its surroundings, was named after Turo Darboe in recognition of his valuable contribution towards nation building at a colourful ceremony held at the village.
Speaking on the occasion, Turo Darboe, whose outstanding generosity covers such diverse fields as relief aid, education, health, religious activities, business development, women's causes and community development, reaffirmed his commitment to always complement government's effort towards national development.
According to the Fajikunda based businessman, nation building should not be seen as the responsibility of government alone but noted that it should be the desire of every patriotic citizen to complement the efforts of government.
"Sports development has always been a top priority of the government under the able leadership of Professor Alhagi Yahya Jammeh, a man who always puts the development of this country in his heart", he said, adding that with President Jammeh, Gambia will always be an example to other countries.
Having long subscribed to the fact that The Gambia government's Blueprint, Vision 2020, is attainable, Turo used the occasion to urge the gathering to always maintain discipline in all that they do, noting that with discipline, their dreams and aspirations will be realised.
For his part, Hon Ousman Sonko, Secretary of State for Interior, underscored the importance that the leadership of this country attaches to sports development. According to the Interior Secy, the development of sports in general has and continues to be a top agenda of the government. "His Excellency Professor Alhagi Yahya Jammeh attaches great importance to the development of this country and sports in particular," he added.
He also urged the gathering to always maintain discipline, noting that it is only with peace that the country can develop. Also speaking earlier, Hon Sainey Mbye, National Assembly for Lower Saloum highlighted the significance of sports in the promotion of culture and peace.
Read Other Articles In Article (Archive)