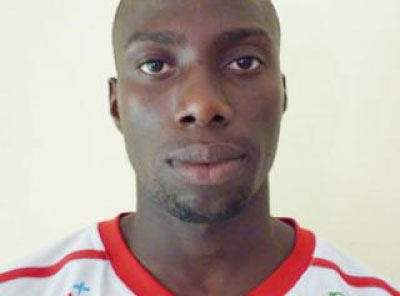 Gambian sprinter Suwaibou Sanneh is hoping that he will qualify for the semifinals of the 100meter hurdles when he took to the track for the 30th edition of the Summer Olympic Games in London on the 4 August.
Suwaibou participated at the last quadrennial Games in Beijing on the wild card arrangement but the 22-year-old has now joined hundreds of other elite world athletes who have qualified for the Games that will get underway on Friday.
Speaking in an exclusive interview with Pointsports following his second day of training on Tuesday, Suwaibou who spent the last three years training in Kingston, Jamaica said he is in the perfect condition to participate.
"I have been training at the Olympic Stadium since my arrival and it was very hot today [Tuesday] which is a very good condition for me. I am hopeful of reaching the semifinals for this year and if the whether continues to be like this, I know that I can go a long way," Suwaibou said.
The country's best sprinter added that his preparations for this year's Games is of far better condition compared to the last Games in the Chinese Capital having not faced any difficulties at camp since his arrival at the Olympic Village in Stratford.
Suwaibou's compatriot and The Gambia's only other athlete participating in the Games, Saruba Colley will take part in the qualifiers also on 4 August and if successful will join the rest of the qualifiers for the first round of the 100 meters sprint. And Suwaibou understandably so is hoping that she will make it out from the qualifiers.
Concluding the interview with Pointsports, Suwaibou Sanneh pleaded for Gambians back home to continue praying for him, especially in this Muslim holy month of Ramadan for success by saying he "will not let them down".
Read Other Articles In Article (Archive)