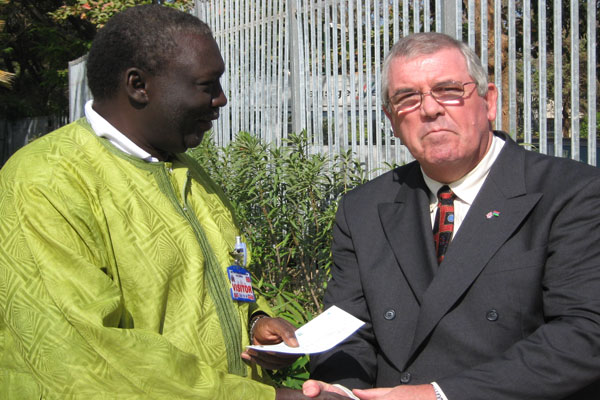 The British High Commission in the Gambia Bilateral Programme Funds on Friday 13th March presented two cheques amounting to 7, 500 Pounds Sterling (almost 280, 000 Dalasis) to two institutions as part of its drive to support democracy projects.
West Africa Network for Peace Building (WANEP) received a total amount of D185, 000 whilst the Point newspaper received an amount of D92, 500 from His Excellency Mr Phil Sinkinson, British High Commissioner.
The money, which was handed over to both institutions at a signing ceremony held at the grounds of the British High Commission, is earmarked for the process of capacity building through NGO's, Human Rights, Governance and Rule of Law.
Speaking at the handing-over ceremony, British High Commissioner, Mr Phil Sinkinson expressed his delight to be able to hand over the cheques to the beneficiaries.
He underscored that consultations with the communities is an essential prerequisite of good governance and this project aims to do just that; to build the capacity of local government authorities in enhancing community development.
According to Mr Sinkinson, for the next twelve months, advice will be given in The Point on issues such as good governance, the rights of children and women, gender and health issues such as family planning and health education will be tackled.
He added that both projects would help contribute to a healthy, transparent and open debate on issues that are central to the democratic process.
As part of the project, WANEP will provide capacity building training for newly elected councillors, local government authorities and chiefs in Western Region to enable them to operate more effectively. Also as part of the project, The Point Newspaper plans to run a weekly information column covering issues such as rule of law, good governance, child and women rights and health matters.
This work will be supported by the Bilateral Programme Funds with the aim of promoting understanding and debate of these important issues.
Read Other Articles In Article (Archive)