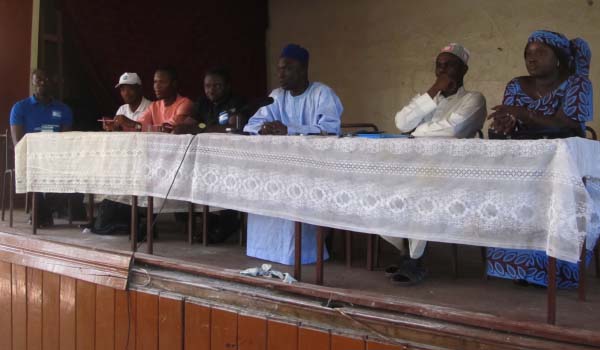 The Ministry of Basic and Secondary Education (MoBSE) will today begin the training of 3000 teachers in collaboration with the Mathematics Teachers Association of The Gambia on Mezzo Maths techniques of teaching mathematics in Lower Basic schools in the country.
One hundred and twenty teachers were recruited for the task last week following the general training conducted for 350 teachers in August in Banjul with facilitators from the Mezzo Maths Limited in Ghana.
The introductory training was followed by the launching of Mezzo Maths as a mathematics teaching strategy in The Gambia by the Minister of Basic and Secondary Education.
Addressing the step down trainers on behalf of the permanent secretary on Friday at the Gambia High School assembly hall, Adama Jimba Jobe, director of Maths and Science at MoBSE, said the mathematics teaching strategy was copied from Ghana to help school children in the maths subject.
He said 3000 teachers are targeted for the training course, adding that Mezzo Maths is a strategy the ministry is trying to adopt to help in salvaging the problems they are having in mathematics in the education system, particularly at the lower level.
After the training session, it is hoped that the strategy would become a household name and a catalyst to improve the performance of students in maths, he said.
Rev Peter Akoto, Mezzo Maths initiator and director, informed the meeting that Mezzo Maths has been tried and tested in Ghana, in partnership with the Mathematics Association of Ghana, with a lot of success.
According to him, the strategy was approved by the Ghana education service and that many schools are on board.
Rev Peter stated that Mezzo Maths focuses on research-based simplified techniques in solving mathematical problems faster than the traditional methods with the slogan, "Mezzo Maths – Easy Maths!"
The chairman of the Mathematics Teachers Association of The Gambia, Saidou Jallow, described the exercise as a positive challenge for the teachers and the Gambian education system.
Among the challenges, he said, the teachers had to leave their normal classroom duties for the weeks of training, with the objective of finding a way out for their children who are struggling every day to understand and master mathematics.
Read Other Articles In Article (Archive)