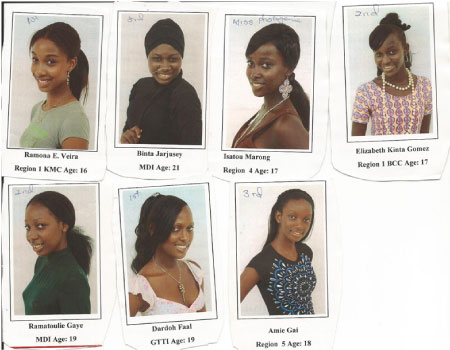 The Miss 22nd July Scholarship Pageant 2012 final took place on Saturday at the Pencha Mi Hall of the Paradise Suites Hotel in Kololi.
The participants were drawn from region 1 to region 6 and also from high recommended institutions all over the country to showcase their beauty and knowledge.
This year's theme is "Promoting cultural diversity through education - Our source of unity and strength".
The Miss 22nd July Scholarship Pageant is an initiative by President Yahya Jammeh for girls to showcase their talents.
The occasion was graced by the First Lady Madam Zeinab Yahya Jammeh and Vice President Aja Dr Isatou Njie-Saidy.
The Miss July 22nd Scholarship Pageant, launched two years ago, seeks to strike such balance between hard work and complex cognitive process, on one hand, and relaxation, recreation and aesthetic appreciation on the other.
It is a pageant dedicated to recognizing and appreciating our cultural diversity, talent, beauty, grace and intelligence with the object of nurturing such potentials in the youth to mature fruitfully for social and economic development.
Fatou Lamin Faye, Minister of Basic and Secondary Education, in her welcoming remarks, thanked President Yahya Jammeh for the good initiative about the pageant, which she said is an annual occasion in order to showcase the talent of girls, saying winners are accorded scholarships.
Minister Faye also gave a brief background of the pageant, saying that over 200 students were drawn from the junior, secondary and tertiary schools.
She thanked all the dignitaries who graced the occasion as well as the sponsors of the pageant.
The theme, she explained, was chosen to bring to light all cultures in place and to help the young minds to appreciate culture as well as to transform young girls to perform as expected of them and build self-confidence.
Minister Faye said further that the 22 girls who took part in the pageant showcased their talent and demonstrated their knowledge, adding that the pageant will help the government to eliminate cultural bias.
She also thanked the Gambian leader for the honour bestowed on them to be giving young girls scholarships to learn.
The contestants not only showcased their talents, they also talked on their various platforms.
The competition was opened with traditional dancing followed by full-time entertainment by guest artiste Seikouba Bambino.
Among the 22 contestants, Ramona E. Veira of KMC Region 1 emerged the winner in the senior secondary school level, Elizabeth K. Gomez of BCC Region 1 emerged the first runner-up and Amie Gai of Bansang Region 5 emerged the second runner-up, while Isatou Marong of Region 4 was crowned Miss Photogenic. 
For the tertiary level, Dardoh Faal of the Gambia Technical Training Institute (GTTI) was crowned the winner, Ramatoulie Gaye of the Management Development Institute (MDI) was crowned the first runner-up and Binta Jarjusey of the Management Development Institute was crowned second runner-up.
Certificates were also given to the president, the first lady and the vice president of The Gambia. 
Read Other Articles In Article (Archive)