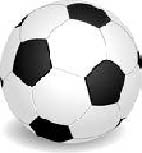 Milan FC on Tuesday defeated neighbours Juventus FC by 1-nil to maintain their 100% record start to the Serrekunda East Sports Development Organisation (SESDO) Nawetan competition.
Papa Salif Badjie scored the only goal of the game for Milan FC in the 29th minute of the game from a brilliant finish, to earn his side all three points.
Milan FC have now collected the maximum nine points in three encounters, while Juventus FC collected three points in three games.
In the 3 pm kick off of the same day, BB Rovers FC beat Eden Border FC by 3-1 to register their first win of the nawetaan competition.
BB Rovers FC have now collected four points in three games, while Eden Border FC collected two points in three encounters.
At the Biri-Biri Mini Stadium in Ndofan village in the Lower Niumi District of the North Bank Region, on the same day, in the ongoing Under-15 tournament organized by Ndofan Sports Committee and sponsored by Ngean Marong, Ndofan FC beat Mbulum FC by 2-1.
Saikou Conteh gave Mbulum FC the lead in the 39th minute of the game, but his effort was cancelled by Ebrima Bobb for Ndofan FC in the 55th minute of the game, while Biram Surr sealed the victory for the home side Ndofan FC in the 70th minute of the game.
On Monday, Mbollet Ba FC lost to Jollof FC of Fass Njaga Choi village by a goal to nil in the same competition, with Musa Jallow netting the only goal of the day for Jollof FC in the 79th minute of the game.
Speaking to reporters, Ibrahim Kalilu Dumbuya, head coach of Milan FC, said, "I feel very proud winning today, but the complement goes to the players, fans and entire management of Milan FC for choosing me to lead the team this year".
"We did not under estimate or neighbours, though we all train at the same place, and we don't know who was watching who, but we were well prepared for this game", he stated, adding that, "I have to compliment Juventus FC because they came all out for an equalizer during the game".
"The team (Juventus FC) is technically and tactically updated, and they put up a defeating performance against us which I'm proud of because everybody expected such an encounter in this derby", he noted.
"It is not that we or they were more fit during the game, but sometimes as a coach you capitalize on your opponent's weak points to be able to win", he added, noting that they made five changes during the game, which has contributed to their win.
He added, "I feel so proud collecting maximum nine points in three games", noting that, "it is not that we are better than the other teams, but as I said, as a coach, you need to read the game and capitalize on the weak points of your opponent".
Ousman Jallow, head coach of Juventus FC, said, "I really feel bad because we have now lost two games, and right now our group is very critical".
"We are in a very critical position right now, and it would be difficult for us", he said, adding that they made a mistake and Milan FC capitalized on that to score them.
"We played the whole 90 minutes of the game", he added, noting that, "we push them up to the end, but were unlucky and we have taken it in good faith".
"We would go back and prepare for our next games and God-willing, we will win our remaining games", he stated, adding that the performance of his boys against Milan FC was 100 percent, and that his player did what they asked them to do during the game.
Read Other Articles In Article (Archive)