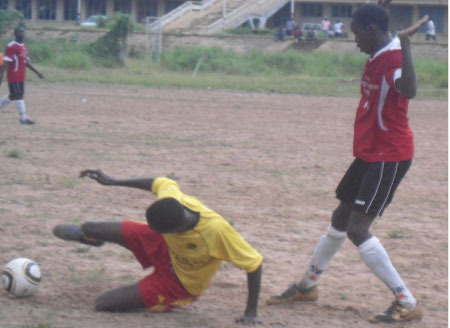 Zebra FC of Bakau on Tuesday got off to a perfect start at the Bakau summer championship by smashing four goals pass Tos Achief's goalkeeper, to take home so far the biggest win of the 24 team Nawetan competition under way at the Real de Banjul grounds.
Madi Fatty stole the show with a hat trick, which also served as the first hat trick of the campaign as he fired home three wonderful goals - one in the first half and a brace within a space of 2 minutes at the restart, much to the delight of his coaching staff who were delighted with a massive 4-nil victory.
Babucarr Jallow scored the other goal of the rough encounter as his side eased pass the helpless Tos Achief team, formerly called Birmingham, whose efforts were not good enough to break the deadlock in an action-packed encounter.
The result is so far the heaviest defeat of the campaign, and it will pave the way for other teams to kick off their campaign, as Vida looks set to face Bremen Border at the same playground this evening to be followed by another encounter between Luniburg and Scantours tomorrow.
The hotel side, Seaview, will start their quest for silverware when they take on Katchically in the early kick off of Saturday's encounter, which is expected to be followed by what promises to produce a crucial tie as Late F. Drammeh, formerly called Vietnam Border, begin their campaign with a game against much fancied Ron Mango side in the other game of the championship.
However, a total of three matches will be played on Sunday beginning in the morning, when Julangel entertain Linguere at 9:30am to be followed by Mamakoto versus 5 Junction in the 3 pm encounter, with Kairaba meeting Milan in the last game of the day at the Real De Banjul playground at the Independence Stadium in Bakau.
Junior Arms and Bantankoto's game was taking place at the time of going to the press yesterday.
Read Other Articles In Article (Archive)