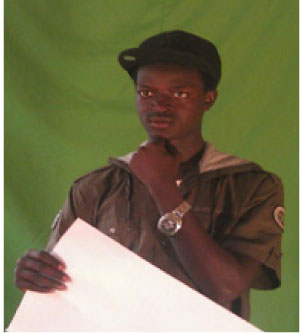 Lamin Saidykhan called Mighty Joe will release two albums in November 2012.
Mighty Joe's albums will comprise a video album and an audio CD album.
The launching of both albums will take place at Alliance Franco Gambienne on 10th November.
The album entitled "Where did the music go" comprises 12 tracks and its DVDs.
Mighty Joe is pleased to inform the general public that there is no sponsor for his album even though that his doors are open if there is any individual or a company willing to sponsor the album.
The artiste said the night of the launching will feature lot of other Gambian artistes who will be performing with him, among them Jalex and Singhateh.
Mighty Joe will print 1000 CDs and 1000 DVDs. As many as 500 of each will be available at the launching venue, and copies will be given to those who buy tickets to enter at the venue.
"I wrote to lots of companies to help sponsor the album, but I didn't hear any response yet, and I can't wait for them because I never know when they are going to respond.
"So financially I'm doing most of the things for myself. Nonetheless, there are people who help me in other aspects, people like Singhateh really supported my album, Super Graphics, DJ Gfaal also helps me a lot".
Mighty Joe said music is his life, and music is what he wants to do for life, and that's why there is no turning back for him. He added that it was not easy at all to sponsor his album by himself, and that he had to overcome a lot of challenges and hardship.
The young talented artiste said the 12 track album will contain lot of hit songs, among them a song called 'Mankind is so dangerous', a song that today is like a national anthem in The Gambia.
Mighty Joe said his family are his management, but he has a team working with him on his music. When it comes to promotion out of the country, he also has people standing for him.
He said the duplication of his albums is being done in The Gambia, because a young Gambian is having a printing company where he can get the service done.
Talking about how secured his album will be, he said the Ministry of Arts and Culture should be responsible for that, and they have promised him that his album will be protected.
"I'm calling on all Gambians to desist from piracy, because anybody caught pirating my album will face the full force of the law. It will not be fair for me to spend a lot of money on that album, and see people pirating the album".
Meanwhile, Mighty Joe said people can reach him directly if they have any sort of business for him concerning his music. He said he will like to concentrate on the album's release first, and will not reject shows when he deems it necessary to perform.
Mighty Joe finally said he will like to thank GRTS management, especially Lamin Manga, for all their efforts towards promoting his album.
"Big thanks to people like Peter Brima of Africell, Peter Gomez of West Coast Radio and his entire staff, big thanks to all Gambian music DJs, Harona Drammeh CEO of Paradise FM and Mediamatics. Big thanks to my fellow Gambian artistes who have contributed to the success of my album, thanks to Quinnie of Unique FM, the Block Studio, thanks to Wagan of the Black Lynx, Xmyls and the whole crew, big thanks to the Smile Free Records in the UK, thanks to my crew in the U.S. to K City that's my hood in Kololi. And finally a big thanks to the management and staff of my former school SOS in Bakoteh."
Read Other Articles In Article (Archive)