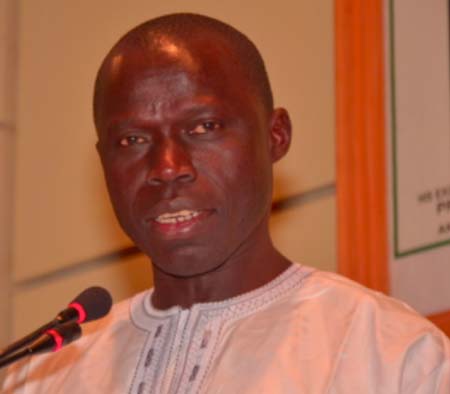 The minister of Finance and Economic Affairs, Hon. Abdou Kolley, has said the historic service offering of QCell is an opportunity to ensure digital inclusion takes centre-stage in Gambia's development drive.
QCell is out "to bridge the digital divide in our country, and put at our disposal the essential modern tools necessary to serve a more prosperous humanity and make our country, our world, a better place", the Finance minister said.
He thanked QCell for its "vibrant pioneering spirit and continued and consistent commitment" to leapfrogging this country's development, "not only through investing in innovative technologies, but also in its commitment to supporting other key national development areas" such as the education and health sectors.
The Finance minister also congratulated QCell on the launching of Qodoo Mobile Money, sunu KALPEH, which, he said, would transform many lives along the length and breadth of The Gambia, and put the country on the map of technological innovation, yet again.
According to the Finance minister, the launching of QCell Qodoo Mobile Money has broken another new ground, in being one of the first GSM companies to bring "this comprehensive, life-changing service to the people of this country".
"The government welcomes such innovation for the benefits it will bring to its people, and for the fact that it will allow the country to improve its competitiveness, both regionally and internationally."
"Coincidentally, since its inception in 2009 as the first GSM company to offer a 3G Mobile network in this country, QCell has remained at the forefront of the telecommunications revolution, setting trends and widening access, hence contributing immensely to aligning our market to global standards."
Minister Kolley said the national and international awards and the recognition, QCell has received over the years, serve as testament to the company's contribution to the development of The Gambia.
Concluding he said: "This breakthrough innovation has continued to transform the lives of ordinary citizens immeasurably, and we must applaud QCell for bringing this transformative global technological revolution home."
Read Other Articles In Article (Archive)