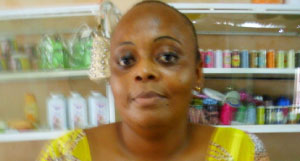 As the Tobaski is fast approaching, Dubios and Drammeh Fashion is in the high gear to provide new fashion for high-profile ladies and men.
Well located in the heart of the capital city Banjul, at Independence Drive opposite the High Court and is out to meet all your needs in terms of fashion and style. Dubios has all the latest materials for both ladies and men ranging from Ganela, shoes, handbags, cosmetics and other things that give you a new look.
In a chat with Entertainment on Wednesday at her fashion, Feli Dubios the proprietor of Dubios said the place is set to and is ready for all and sundry. Ladies and high-profile men would meet their expectations. She added that the outfit is open for business with a view to adequately and effectively respond to the needs of customers.
"I started this place before the Ramadan, and since that time it is moving gradually. I got some of the materials from Dakar and Mali as well. I have also sewing machines where most of the materials are sewn here".
Madam Drammeh told Entertainment that since she established this business, she has been penetrating the market, adding that she would continue doing that. At first I encountered some difficulties and thank Allah that things are moving. She, therefore, called on others, especially women to do the same.
Read Other Articles In Article (Archive)