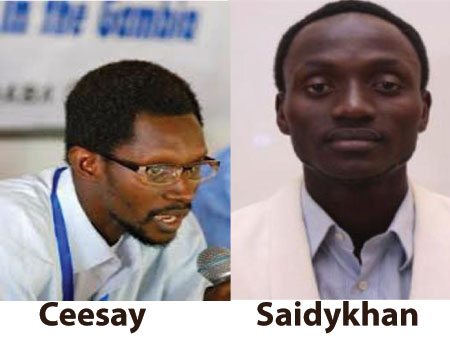 The Media Foundation for West Africa (MFWA), a freedom of expression and media rights organisation based in Accra, Ghana, is concerned and dismayed about recent criminal charges against two journalists in The Gambia; after they were detained for seeking a Police permit to peacefully demonstrate.
In a statement issued yesterday and copied to The Point, the MFWA said it learnt from its sources that two separate charges were preferred against the two journalists, Baboucarr Ceesay, first vice president of the Gambian Press Union (GPU) and Abubacarr Saidykhan, a freelance journalist, on September 21, 2012 after they reported to the police headquarters in Banjul as their bail condition required.
The two were arrested on September 6, 2012 and spent four days in detention.
On September 10, they were charged with "conspiracy to commit felony" and released on a bail bond of 250,000 Gambian Dalasis each, with one Gambian surety.
"However, according to the sources, Ceesay now faces an additional charge of "seditious publication" for an article the Police claim he published on Kenya-based Africa Review website.
"Saidykhan on the other hand received an additional charge of "inciting violence" under section 59 (b) of the criminal code," MFWA said.
Both journalists, it added, now face two separate criminal charges and are yet to appear before a court of law.
"The MFWA heightens its call on the Gambian authorities to drop these charges, since Section 25 (1d) of the Gambian Constitution guarantees the right to peaceful demonstration; freedom to assemble and demonstrate peaceably and without arms," the statement further stated.
According to the MFWA, it believes that by seeking police authorisation, the journalists demonstrated their respect and faith in the authorities and their preparedness to uphold the principle of non-violence.
"We thus request the Gambian police to stop this wavering and exonerate the journalists of all charges, since all facts prove they acted within the confines of Gambian laws," it added.
Read Other Articles In Article (Archive)