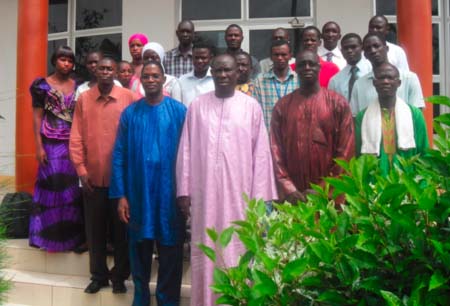 Media practitioners in the country were on 30 July 2013 sensitised on the ratification process of the UN 97 convention of the laws of non-navigational uses of international watercourse.
The forum, organised by the department of Water Resources in collaboration with Global Water Partnership and The Gambia Country Water Partnership, was held at the NaNA conference hall in Bakau.
In his official opening statement, the minister of Fisheries and Water Resources, Mass Axi Gaye, said: "This workshop, will no doubt, mark the fundamental pillars in our quest to uphold Integrated Water Resources Management (IWRM) process in all our national development endeavours," he said.
He said the 1997 United Nations Convention on the law of non-navigational uses of international water courses convention is a flexible and overarching legal framework that establishes basic standards and rules for cooperation between states on the use, management and protection of international water course adopted in 1997.
According to him, water pollution and overuse have worsened in many places, and the world's poorest peoples are already facing shrinking supplies, thus the scale of the freshwater challenge is enormous, especially with climate change making water availability more unpredictable and causing more, frequent, widespread droughts and floods.
Securing water resources for meeting growing human needs thus safeguard fragile ecosystem and maintaining economic prosperity is one of the most pressing issues of the 21st century.
He lamented that the implementation of the programme for the ratification of the UN Convention by West African countries poses a daunting task.
In The Gambia, the ongoing advocacy for the ratification has raised strong interest as the process is well on track and there is optimism for the achievement of the goal by the end of 2013, he said.
According to him, the UN 97 water courses convention ratification processes got a very strong attention from the department of water resources under the Ministry of Fisheries and Water Resources together with the Gambia country water partnership leading the advocacy process.
He further stated that a national campaign for the ratification was launched including a strong involvement of the media and also discussion at district level throughout the country.
For his part, Sidi Coulibaly, communications officer, Global Water Partnership for West Africa, said his office is coordinating regional process on behalf of ECOWAS Water Resources Coordinating Centre and other partners like WWF.
Thirty countries worldwide have ratified the convention, he said, adding that to enter into force, five more countries have to ratify it.
"We hope that Gambia will be the next country to send its instrument to the UN Commission notifying on the ratification by the country of the convention," he said.
Deputizing the director of fisheries and water resources, deputy director Bernard Gomez seized the opportunity to extend his gratitude to the Global Water Partnership West Africa Chapter for the partnership.
Read Other Articles In Article (Archive)