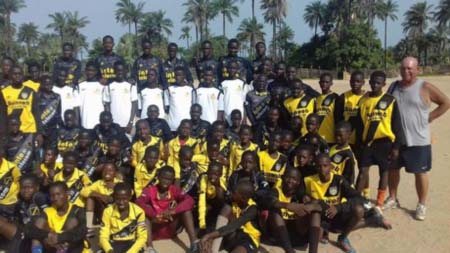 The Gambia Sports Foundation (GSF), a Netherlands-Gambia charity, Saturday November 19, 2016 presented sets of jerseys, footballs, socks and other sporting gears to the NAC-BRENDA Academy of Kotu, at a ceremony held at the Kotu Quarry in the Kanifing Municipality.

Presenting the items, Yankuba Vermeulen, the founder and CEO GSF, who also doubles as the president of the Academy, said the charity's main objective is to promote young grassroots talents, as well as to discourage idleness within the young Gambian population.
''GSF has been supporting young Gambian players to achieve their dreams, and also in realising their potentials in sports, more especially in football,'' he said.
Mr Vermeulen further noted that since this is another avenue for one to earn a decent living, the foundation would never relent in pursuing its efforts towards the advancement of the Gambian young grassroots sports in all categories.
He said it is also the responsibility of the respective beneficiaries to continue working with the foundation, which has the interest of the country at heart.
The GSF, according to him, also embarks in organising Nawettan competitions in various categories, ranging from U-7, 10, 16 and senior categories respectively, across the country.
He cited the recent one held at Siffoe village in the Kombo South district of the West Coast Region, and a similar one to take place in Busumbala village in the Kombo North district of the West Coast Region.
''My only advice to the beneficiaries is to carefully handle the items and put them into good use, as they are indeed costly."
Mutarr John Jarjue, the administrator and founder of the NAC-BRENDA Academy, formerly AZ Academy, stated that since the inception of the Academy in 2009, it has been operating with the U-7, 10, 14, 16 and 18 age groups respectively, with no cost attached to enrolment.
He noted that all was possible through the intervention and humanitarian gestures from the donors.
He further noted that the current overall membership is over hundred, and many young people are still coming for enrolment.
"I am assuring the donors that the already existing cordial relationship with us would grow from strength to strength, as it is indeed a genuine one."
Musa Bah, the assistant coach, Dodou Tamba trainer, Abdoulie Jatta medic, Oumie Jatta and Abubacarr Sums, all lauded the charity promising to promote unity, oneness, and discipline at all times.
Read Other Articles In Article (Archive)