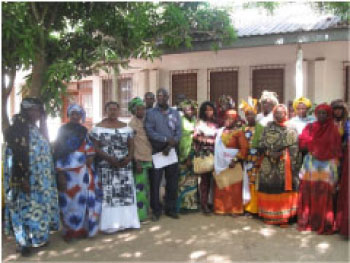 A four-day training workshop on meat hygiene and technology for butchers within the Kanifing Municipality is currently underway at the Brikama Regional Education Office in the West Coast Region.
The training, which targeted fifty butchers mainly females is organised by the Gambia Livestock Marketing Agency (GLMA) and funded by the Livestock Horticultural Development Project (LHDP), with funding from IFAD.
The training sought to expose participants on various topics, including butcher's personal hygiene and care, meat inspection, meat stall management and environmental sanitation, care and maintenance of butchers' tools, hygiene slaughtering and meat handling, illegal slaughtering and its consequence, as well as sustainability of community projects and programmes.
Speaking at the opening ceremony, Ebrima Cham, Director of Technical and Field Services at GLMA, who also doubles as the Coordinator of the training, said his office was contracted to implement the training on behalf of LHDP.
He explained that the training targeted fifty participants, mainly small ruminant producers in the KMC area, most of whom are youths.
According to Cham, the participants are expected to be trained on basic skills on meat hygiene and processing.
To address some of those constraints, Cham said, GLMA with support from the LHDP has come up with a training package to train fifty butchers within KMC as a starting point.
He also highlighted some of the constraints facing meat hygiene and processing in the market industry which, he said, include proper treatment of slaughter animals at the Abottoir, before reaching the final consumers, poor meat handling and processing techniques.
Whilst stating that upon identifying all these key issues affecting butchers, as a result of the lack of skills, he said, GLMA has decided to strengthen the capacity of some of the butchers in order to add more value to the market, have better understanding of meat hygiene and processing and its importance to the consumers.
For her part, Aji Marie Ceesay, a resident of Bundung, who is also a female butcher for the past nine years underscored the importance of the training, which she added, would strengthen their capacities on meat hygiene and processing.
According to her, slaughtering of animal skills has been a major problem for most of the butchers.
Read Other Articles In Article (Archive)