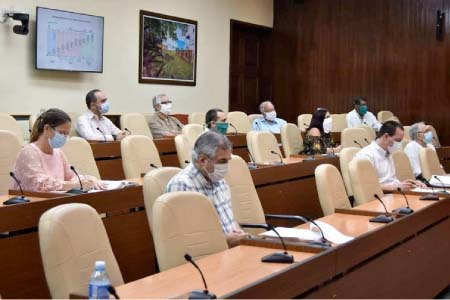 Havana, Apr 26 (Prensa Latina) Measures applied in Cuba to contain the Covid-19 epidemic are paying off, according to the evaluation of scientists from the island at a meeting with President Miguel Díaz-Canel.

Predictive models on active cases show that Cuba has moved in recent days on the most favorable scenario, it emerged from the meeting held the day before at the Palace of the Revolution, in this capital.
However, this cannot be a reason for demobilization, because the peak of the pandemic has not yet arrived on the Island, experts warned.
The website of the Presidency of the Republic reported on the meeting, in which it was reaffirmed that the most critical moment must be reached 77 days after the disease began progressing, which should occur by the end of May. A study on the mobility of people after the implementation of social isolation was also presented at the meeting, carried out by the Faculty of Physics of the University of Havana.
As explained by the doctor of science Alejandro Lage Castellano, the movement in all provinces has been falling to about 50 percent, although in the previous week it fell a little more.
This was interpreted as a demonstration that mobility reduction measures are working.
In this regard, specialists from the Cuban Telecommunications Company explained that these data on mobility are obtained through the use of cell phones.
For this, they clarified, the identity of the people is not used; on the contrary, massive or collective analyzes of the information are carried out, as is the case throughout the world.
In particular, clinical studies with the preventive use of Biomodulin T in all nursing homes in the country were explained; and the use of the nasal Interferon combined with Biomodulin T, in patients of Nursing Home No.3 in the central city of Santa Clara, where an open transmission event of the new coronavirus occurred.
Likewise, the treatments of critically ill and critically ill patients with Cuban anti-CD6 mAb products itolizumab and CIGB 258 were detailed, both with very promising results in this type of patient.
Read Other Articles In Article (Archive)