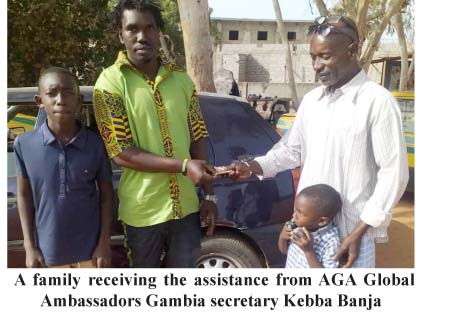 As Muslims commenced fasting in this year's Holy month of Ramadan, AGA Global Ambassadors UK/Gambia, over the weekend supported five Gambian families with one hundred and fifty pounds sterling.

Earlier this month, the UK/Gambia charitable trust donated 12 bags of 25kg rice to families in various Gambian communities who are currently not able to earn funds to provide food to feed their families during the isolation period of covid-19 pandemic.
The organisation also donated buckets and sanitary materials to mosques, hospitals and other places across the country in a bid to manage and contain the spread of coronavirus in the country.
AGA Global Ambassadors UK/Gambia is a non- profit group based in United Kingdom who share the passion to help disadvantaged communities across Africa, particularly in The Gambia. Over the years, they have supported Gambia's education and health sectors as well as the less privileged.
Founder Sister Angie Graham observed that as a result of the global covid-19 crisis and lockdown in the country, it is going to be extremely difficult for some families to find means to provide food to break their fast which is why they extended a helping hand.
"Some people cannot earn fund as normal, due to the current lockdown measures," she noted, saying that the gesture will enable them to feed families for at least two weeks of the month of Ramadan.
"I learnt to give not because I have a lot, but because I know how it feels to have nothing," she remarked.
Gambian President Adama Barrow declared a 21-day state of public emergency owing to the covid-19 pandemic in the country on 18 March 2020. This has been now extended to 45 days by the National Assembly.
Read Other Articles In Article (Archive)