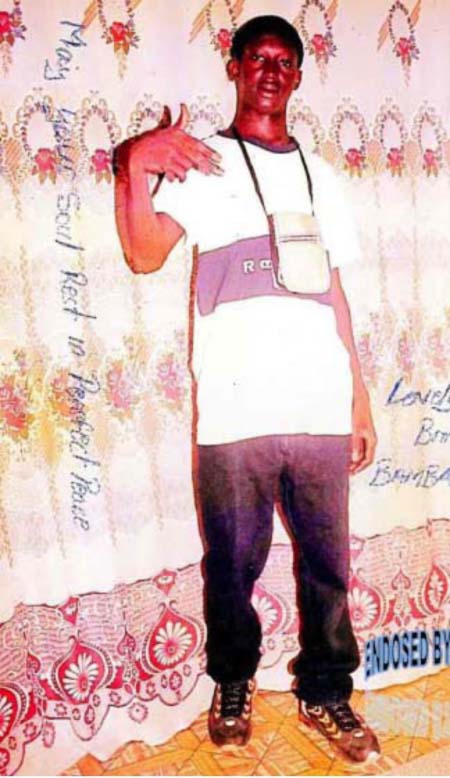 Martyr: "a person who is killed because of their religious or other beliefs. kill (someone) because of their beliefs. a person who willingly suffers death rather than renounce his or her religion. a person who is put to death or endures great suffering on behalf of any belief, principle, or cause: a martyr to the cause of social justice."

"They may torture my body, break my bones, even kill me. Then they will have my dead body, but not my obedience."
Mahatma Gandhi
"Mr Bamba Jobarteh was martyred for his belief in freedom and liberty for The Gambia". By Musa Manneh
Mr. Bamba Jobarteh was born in Bansang, The Gambia. His mother was Sister Mam Tambajang and the father Mr. Saderr Jobarteh. Sister Mam Tambajang was a daughter to Alh. Pa Arfang Tombong Tambajang (Rip). His father Mr. Saderr Jobarteh used to be a driver for Agriculture Department. I understand that Mr. Saderr learnt driving from Alh. Pa Mama Tambajang (Rip). Mr. Bamba Jobarteh was a nephew to Brother Gassim Tambajang, Ibrahim Tambajang and the other siblings. Mr. Bamba came from a humble and great family in Bansang. The Tambajangs are remarkable and well respected families who had put a mark on the history of Bansang. They are families known for their knowledge and hard work. It is one of these dignified families that Mr. Bamba Jobarteh was born into.
It was in the year 2000 April 10-11th student demonstration that Mr. Bamba Jobarteh was brutally murder by the security forces of Jammeh the Dictator. April 10-11th was one of the darkest days in the history of The Gambia. Innocent students were massacred and beaten by Jammeh and his thugs. Some the victims are maimed for the rest of their lives. The students whom we anticipated to be the future leaders of our beloved country were sent to their graves at very tender ages. Growing up in The Gambia, I never heard about "any number of students being killed in that magnitude". I understand that Bamba was chased by security forces on that fateful day; and he was caught in his own house. The security forces kicked and trampled on him using their heavy boots. Due to serious injuries and traumas, he admitted at Bansang hospital; and later died the same day. Like many other victims, these innocent students should not have been killed by security forces who were supposed to protect them. The students were fighting for the fundamental human rights of every Gambian, regardless of the ethnicity, religion, gender and class status. They wanted equal justice for all Gambians. They put their lives on the line for martyrdom; meaning they sacrificed their lives for The Gambia. They are our martyrs. Mr. Bamba Jobarteh is one of those martyrs.
The memories of April 10-11th shall always stay in the minds and heart of all Gambia. It was a moment when our lives were shattered by the brutal regime of Yahya Jammeh. We are still crying for our dead ones, and the wounds are yet to heal. As Gambians, we should not allow the blood of the martyrs and the injured go in vain. And I would like to affirm that the new Gambia Government should not hesitate to punish those who were responsible fiercely. Meaning all the perpetrators, who violated the rights of our youth, should be brought to justice; and punish as stipulated in the law.
As a Bansangka, I will say "sorry that you are gone too soon Bamba"; we are very proud of you. You are a true son of Bansang and a patriotic Gambia. The blood that you and others sacrificed has finally brought freedom and liberty to The Gambia. We shall always remember you, Mr. Bamba Jobarteh.
From,
Musa Manneh
New Jersey, USA
Read Other Articles In Article (Archive)