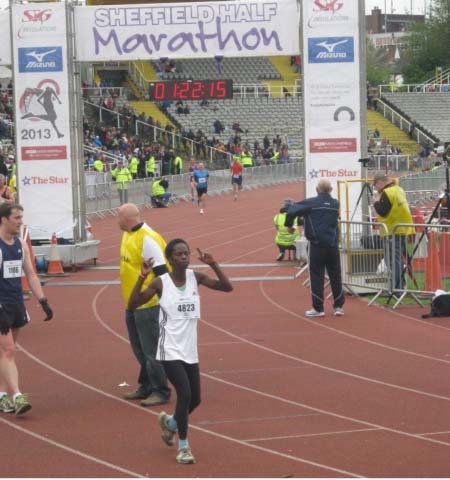 Gambia's female long distance runner, Mariama T Jallow, of Gambia Police Force who emerged winner of the 15km race in the July 22nd Marathon females category has thanked President Yahya Jammeh for sponsoring the first-ever marathon held as part of the July 22nd anniversary celebrations.
"I have never heard of such in the country, and I thank the President for sponsoring the event which is the first of its kind," she said, while calling on him to continue doing so for them.
She went on to thank the Almighty Allah who made it possible for her to compete and win the race.
She as well thanked her family and everyone for their support.
Ms Jallow was delighted in winning the race, and welcomed the challenge she faced in the race as it helps her improve.
The competition compared to other marathons she took part in the country was high and tough, because it was held during the hot sun whereas all the other marathons were held in the morning.
She called on other athletes to keep up the hard work, adding that such a competition is never easy.
Samba Bah also of the Gambia Police Force came second in the 21km race, and said he trained for two nights at the Serrekunda West Park.
"By 2am I start training to 4am then rest until 7am when I will run from Serrekunda West Park to Banjul and run back to Bussumbala", Bah revealed.
"I know the road very well and was fully prepared", he went on, adding that he was delighted seeing his role model (Lamin Sanneh) return to the country to compete in the marathon. Lamin Sanneh is the most outstanding long distance runner in the country at the moment, according to Bah.
Samba Bah has won 12 trophies in the past, and described himself as the future. He welcomed the organisation of the marathon in the country.
"It is the biggest I have ever competed in," Bah said. He has represented the country in marathons abroad. The July 22nd anniversary marathon was a home challenge, and they would like the event to be held annually, he added.
Read Other Articles In Article (Archive)