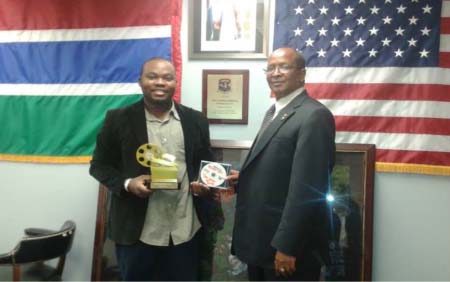 Ibrahim Ceesay, executive director of MandingMorry Entertainment, has said he intends to use film as a tool for change and social transformation in the form of education through entertainment.
"Information through entertainment in the form of peer education activities, outreach and media programmes and film has always been a bridge between education and entertainment, and that the firstfilm'The Hand of Faith' has been used to spread the news, share history, or educate people about eventsin ourcommunities," he told journalists recently in a press conference.
Mr Ceesay said "The Hand of Faith" was premiered and screened in The Gambia on February 1, 2013 and was reckoned by many as the biggest movie event in The Gambia
He added: "'The Hand of Faith'is the first Gambian film to make it for international screening.It has won 'Best indigenous film' award at the Nollywood and African Film Critics Awards (African Oscars) held in Washington D.C on the 14th of September 2013."
Ceesay said further thatthe film was also screened in Ethiopia as part of the African Union 50th Anniversary Celebrations, screened in Paris, France, as part of the UNESCO Africa Week and subsequent screenings also took place in Sweden, Denmark and Norway.
He added that private screening of the film was organised for staff of The Gambia Embassy in Washington D.C on 16 September 2013 and a preview copy of the film was presented to the embassy.
He pointed out that MandingMorry Entertainment's intention is that this film serves as an effective tool in raising awareness against violence on the girl child.
"Gambia film industry has a lot of potential," he said. "If cherished properly it can serve as a source of employment for so many young people and we are calling on all stakeholders both the private and public sectors (the government) to come on board to move it to another level," he said.
Next film project
In another development, MandingMorry Entertainment's next project, Mr Ceesay said, is called "Sarata" which is a story based on deceit, love betrayal and challenges faced by young women, in an attempt to better their lives.
According to Ibrahim Ceesay, "Sarata" is a young beautiful well brought-up village girl in love with a young man Abdou and want to wait for marriage before she engages in sex. He said with the unpredictable situations of life, as an orphan she moved over to the city for better care, but later she became very savvy and sexy, living a wild and care-free life.
"I want to make my niche in social justice film, because I am a development-orientated man and we are open to partnership from all interested stakeholders to partner with us," he said.
Read Other Articles In Article (Archive)