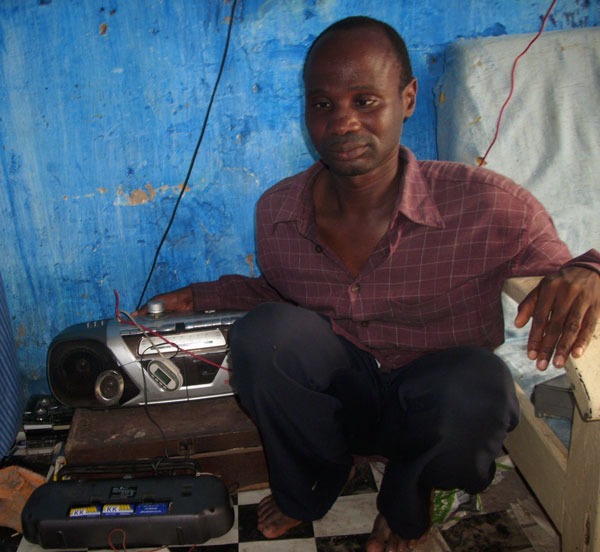 A 38 year old visually impaired man born of Jokardu now residing at Churchill's Town, has started invention of a Radio Station but crying for assistance to help him complete his dream. Curiosity many will say is the mother of invention as this young man invents FM 102.0 at Churchill's Town where he rocks the community with music. Amadou Jallow, the inventor lacks lots of materials and is now yearning for special help to get him to higher heights. Society and Development asks him how and why the station including his needs to improve, as he operates the station to our amazement. Read on!
S&D: Tell me about yourself
Amadou J: I am 38 years old, born of Jokardu in the North Bank Region. I am visually impaired. I went to school at GOVI. I live at Churchill's Town.
S&D: Have you any background in broadcasting?
Amadou J: Yes! I worked first for Radio 1 FM for three years as a broadcaster and now I work for GOVI at the resource centre.
S&D: When did you get this innovation?
Amadou J: I had no innovation then as a broadcaster. The innovation came to me in 2007 and I made it for myself. There were a lot of challenges and many people discouraged me from continuing. I had the full conviction and confidence that I would make something and be self-employed. With a full and well equipped studio.
S&D: How was your first radio?
Amadou J: The first radio was very good but thunder and lightening destroyed it. It was good that no one was there, it blew the transmitter and spoilt it.
S&D: What materials did you use then?
Amadou J: I used manual materials, it was made by me. I did not buy anything. I used old parts from other materials, infact I had no money.
S&D: Why should you invent a radio station when we have lots of them?                                     
Amadou J: That's a good question, you know why? If you work for somebody else it is different from having your own. "Curiosity" they say is the "mother of invention." I had the curiosity to invent my own station and own it. I felt it could be done and I did it. Radio station is my life. I see a lot of people with talent but not in any gainful employment. I want to be able to employ them after completing my job on the radio station. Right now I have invented the radio and its frequency, those who play it when I am on the air knows how it feels around Churhills' town and part of Bundung. I would love to employ them too. That is development, you see and I want to contribute my quota in national development. And it will also help me to come up with more programmes on education to educate the populace that will be a source of peace and pass on the messages easily to the neighbourhood. To most importantly contribute to the socio-economic development. 
S&D: Who will be your target groups for the created employment? 
Amadou J: Some of the visually impaired want to work in radio stations but no chance. With mine, I will employ them and make them realise their dreams. For now they have finished education but are unemployed, some go around begging for their living. I cry for them, they need help and I want to provide such help with my invention if someone or group can help me to realise my dream.
S&D: How would you set up your radio Station?
Amadou J: I will start by finding a strategic location, advertise the Station, which is named 'PEACE FM 102. 0.' I will look for adverts and start recruiting presenters for the different programmes. I will look for veteran journalists, especially radio journalists to train my personnel. I think I will start from that point.
S&D: What materials do you need to get your station going full time?
Amadou J: I need a wireless Transmitter because the present one does not go too far. I need radio set and tapes and CDs. I need to furnish my radio station to make it standard. I need personnel and electricity to keep the station on course.
S&D: What materials do you presently use to get the radio going?
Amadou J: I use four KK Batteries and it is not powerful. It is placed in an old radio cover to protect it. It has wires or cables that are connected to the batteries. I have another radio that regulates the volume. It contains a telephone channel that regulates a phone in programme it contains two cassette holders. There is another button meant for relaying to Radio Gambia for an onward broadcast. I also use a small radio to monitor the waves to see if it is correct or not. There is an adapter that supplies the radio current. I also use a long wire connected to the antenna, which is about 12 metres long. This is all that makes the station go on. If I improve on this, then every community can get a simple, cheap but effective community radio station.
S&D: Is there anything else to improve on?
Amadou J: I need a 1, 500 transmitter that can transmit as far as Guinea-Bissau. I also need a tower, mixer, computers and internet, most importantly microphones, more stands for studios A and B. I would need chairs, tables and three deck player, one for panel discussion, mixer and a reserve.
S&D: Have you any appeal to make?
Amadou J: Firstly, I would appeal to President Yayah Jammeh to extend his generosity to let me make my d ream come true. He is the father of the nation, who cares and listens. He is always urging Gambians to excel I know he will listen and come to my aid.
S&D: How far is your reception?
Amadou J: It covers the whole of Churchill's Town and part of Bundung. I am under test transmission. I play music and music. Over 250 compounds and part of Serrekunda receive the transmission. I have no microphone yet so I cannot take calls. With any slight assistance Gambia would see wonders and will reach out to all.
S&D: Any other person you would want to ask for help?
Amadou J: I am asking all the embassies in the country, such as The American Embassy, British High Commission, India High Commission, Action AID and others involved in man's development.
S&D: Why call it Peace FM?
Amadou J: I know that you love peace, government loves peace, the populace need peace and I need peace. No development without peace, you know.
S&D: Are you grateful to anyone so far?
Amadou J: I am thankful to you, Augustine, and I thank Amat Tijan Jallow for his encouragement and sincerity in guiding me. I want to thank many people so you can take these numbers in case you want to help and call all the thanks would be yours. Tel: 7803010/7788006/6788006/9826040.
S&D: I thank you for showing me everything about your station.
Amadou J: Welcome and God bless you.
Read Other Articles In Article (Archive)