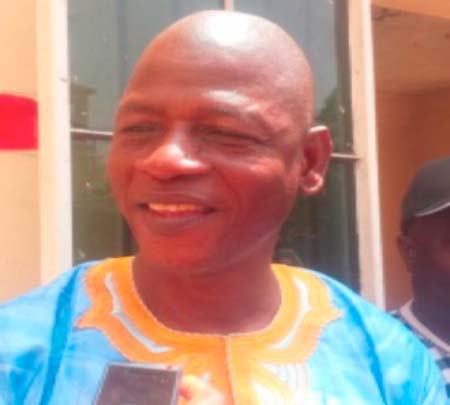 Journalist-turned-politician Madi M.K Ceesay has said he would not be a rubberstamp parliamentarian, if elected to parliament.

The proprietor of Daily News newspaper and a former Gambia Press Union president, Mr Ceesay is standing as a National Assembly candidate under the ticket of the United Democratic Party (UDP) for Serrekunda West constituency.
Speaking to journalist immediately after his nomination was accepted by the Independent Electoral Commission, he said: "I will make quality representation in the National Assembly; that is why my motto is 'Quality representation'. I am not going to be a rubberstamp MP and I am going to criticise any bill that comes before me before I will say okay. I will be representing the people, I will be very consultative with the constituency because I will be there on their behalf, and I will be acting on their behalf. My response in the National Assembly will reflect them and their views."
Asked how he is going to run Daily News newspaper and be a parliamentarian at the same time, he said: "Being a politician does not stop you from taking other activities or businesses. I am a journalist, and I have said it and I have changed several positions, but when I went to journalism, I said I am going to die a journalist and I will die a journalist. This is just an extra cap on me, but I will die a journalist. I will defend the interest of journalists wherever I am; I will still keep pushing the pen.
"As a journalist, you have to be critically-minded; so any bill before me, I will critically look at it based on the interest of the people, as the people's representative. I will not vote for any anti-human bill or any bill that is going to stifle the rights of people.
"We have the worst media laws in this country because the previous regime was so dictatorial that it has come up with serious, bad media laws; and that is something I am going to start working on. We have to repeal some bad media laws."
Commenting on his relationship with his constituency, Ceesay said: "I have been in Serrekunda since 1972. This is the area I did my education, worked, married some of my wives; I am part and parcel of Serrekunda West constituency. My relationship with them is cordial, and I am certain that I am going to come out victorious.
"I share people's opinion that the dumpsite should be relocated. It is a health hazard on the people around there, more so to the SOS Children's Village. There are little kids in that place, and the smoke is really affecting them. It is a health hazard and it is going to be one of my priorities as a National Assembly member of the constituency."
The journalist cum politician said he is going to be more consultative, and has started to gather views from people within his constituency so that he can fully represent their views when he reaches the National Assembly.
Read Other Articles In Article (Archive)