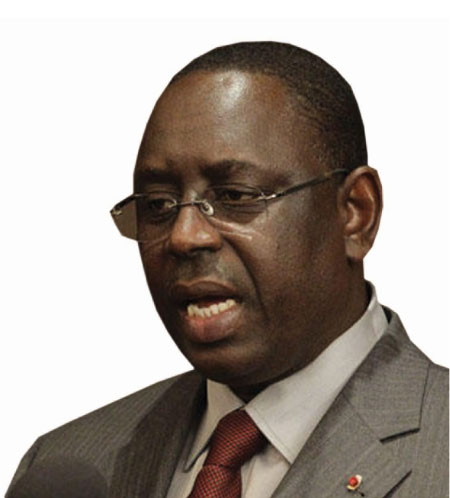 Senegal's presidential election, which saw the incumbent concede defeat peacefully, has been hailed as a "great victory for democracy" in Africa.
President Abdoulaye Wade has accepted that he was defeated by Macky Sall in Sunday's run-off.
The African Union said Mr Wade's concession showed "maturity" in the country's democracy, while the European Union called Senegal a "great example".
Mr Sall addressed thousands of cheering supporters in the capital, Dakar.
He promised to be a president for all Senegalese people.
The president-elect, 50, said the poll marks a "new era" for the country.
The incumbent president made an early phone call to Macky Sall, to admit defeat and congratulate him.
Many had feared that Abdoulaye Wade's candidacy for a third term meant he would try to cling to power and tarnish the country's image as a peaceful and stable democracy.
Senegal has not suffered from a military takeover since independence, but Mr Wade's intention to run again was seen as a "constitutional coup" violating a two-term limit.
After weeks of deadly protests before the first round, the Senegalese gave a lesson in democracy to West Africa - and the whole continent - using their ballots to oust Mr Wade rather than continue facing the security forces in the streets.
But is it Macky Sall's victory or Abdoulaye Wade's defeat?
As the local media were announcing results coming out of polling stations, one after the other after polls closed, it became clear that this election was a referendum in which people voted "no" to more of Mr Wade.
His bid for a third term in office, after 12 years in power, sparked violent protests which left six people dead.
Official results from Sunday's election are expected within two days.
A spokesman for EU foreign policy chief Catherine Ashton said it was "a great victory for democracy in Senegal and in Africa", reported the AFP news agency.
"Senegal is a great example for Africa," he added.
AU Commission chairman Jean Ping said the peaceful conduct of the presidential elections "proved that Africa, despite its challenges, continues to register significant progress towards democracy and transparent elections".
Earlier, President Nicolas Sarkozy of Senegal's former colonial ruler, France, said the peaceful election was "good news for Africa in general and for Senegal in particular".
"Senegal is a major African country and a model of democracy," he said.
The election comes just days after a military coup in neighbouring Mali.
Senegal remains the only country in West Africa to have never undergone a coup.
Mr Wade "phoned his rival Macky Sall at 21:30 GMT [on Sunday] to congratulate him after the first results showed him to be the winner of a presidential run-off," the Senegalese Press Agency said.
Even before Mr Wade's concession, thousands of Sall supporters began celebrating on the streets of Dakar.
They chanted "Macky president!" and "We have won!"
Mr Wade brought in a two-term limit for presidential office, but argued that the limit should not apply to his first term which came in before the constitution was changed.
His argument was upheld by the constitutional court in January, prompting widespread protests in which six people died.
In February's first round, Mr Wade fell short of a majority, polling only 34.8%. Mr Sall came second with 26.6%. But most of the other 12 candidates backed Mr Sall in the second round.
Mr Sall owes his political career to Mr Wade, and had held several ministry portfolios before becoming prime minister, the BBC's Thomas Fessy reports from Dakar.
But the two men fell out over the handling of public spending by Karim Wade, the president's unpopular son, whom many believe has been trying to succeed his father, our correspondent adds.
Mr Sall has promised that, if elected, he will shorten the presidential term to five years from the current seven, and enforce the two-term limit. He has also promised to bring in measures to reduce the price of basic foodstuffs.
The new leader also faces the difficult task of tackling rising unemployment in the country, our correspondent says.
Read Other Articles In Article (Archive)