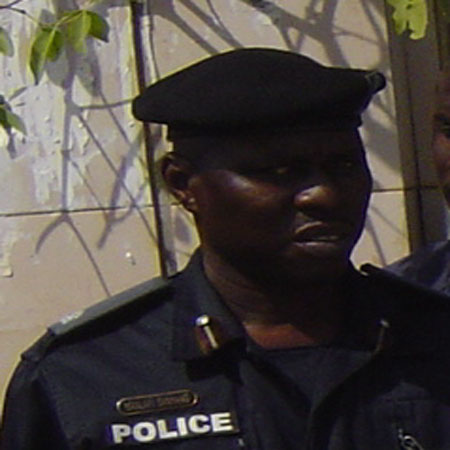 As Ex-Superintendent Manlafi Sanyang is Freed
The Banjul Magistrates' Court yesterday convicted and sentenced Lt. Bakary Camara and Domenico Fedelish, two of three accused persons standing trial for conspiracy to commit a felony and stealing, to varied prison terms without option of a fine.
Lt Bakary Camara was sentenced to one year, six months imprisonment, while Domenico Fedelish was sentenced to five years imprisonment in absentia after being found guilty of the offences of conspiracy to commit a felony and stealing.
The other accused person, Ex-Superintendent Manlafi Sanyang, was acquitted in all the counts preferred against him.
The trio were alleged to have conspired to steal a motor vehicle BJL 4063B Ssanyong Korando being the property of the Gambia Government and also giving false information to a public officer.
Delivering the judgement, Magistrate Kayode stated that the three accused persons were jointly charged on counts 1 and 2, while count 4 related only to Lt. Bakary Camara. He added that following a no-case submission filed by the defence, the court ruled that the accused persons in fact had a case to answer and should be called to enter in to their defence. He said both Lt. Camara and Manlafi Sanyang elected not to give evidence but that Domenico Fedelish gave his defence testimony.
Magistrate Kayode went on to explain that the principal issue for the determination of the case is whether the prosecution have proved their case beyond all reasonable doubt, noting that to prove a charge of conspiracy, prosecution have to prove the meeting of the minds of the accused persons.
He further stated that it was not in dispute that the vehicle at issue was allocated to Domenico Fedelish by the Kanilai Family Farm during his contract with them, adding that Lt. Camara was the mediator between Kanilai Family Farm and Domenico Fedelish. He said that available evidence point to a transaction between Lt. Camara and Dominco Fedelish to effect transfer of the vehicle in the past two years- hence proof of the charge of conspiracy against them. He also stated that any contract entered into between Kanilai Family Farm and Domenico Fedelish was properly documented, noting that there was no compensation agreement between Kanilai Family Farm and Domenico Fedelish. He stated that the purported document for compensation was done outside the contract term as Lt. Camara, who was for all material time the mediator between Kanilai Family Farm and Domenico Fedelish, did not sign the compensation decument. He said the charge of stealing was therefore proven against Lt. Camara and Domenico. He said the charge of giving false information against Lt. Camara was also proven against him as the information was acted upon.
Meanwhile the sureties for Domenico Fedelish were ordered to forfeit the bail bond sum of D250,000 forthwith or else the Title Deed be forfeited to the state as Domenico Fedelish was absent in court.
Read Other Articles In Article (Archive)