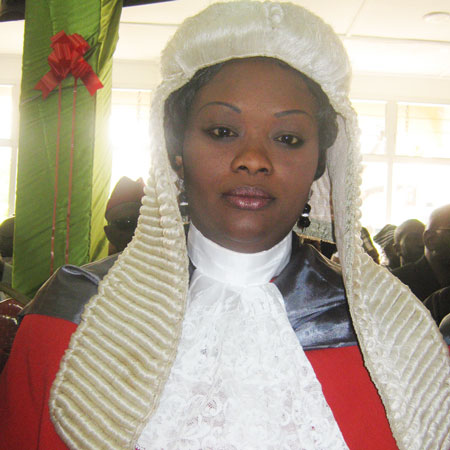 Kate Attori West yesterday denied murdering her late husband William West, a British national as alleged.
Appearing before Justice Ngui Mboob-Janneh of the High Court yesterday Kate Attori West told the court that she did not know how her late husband  died.
She denied ever confessing of murdering her late husband before the police in her statements, and that she did not write the statements by herself.
She adduced that she never told the officer who obtained her cautionary statements that she had quarreled with her late husband as a result of which, she hit him with a pestle.
Kate West narrated at length the ordeal she allegedly went through before the statements were obtained from her, adding that she did not know how those statements were obtained.
According to her, she was charged alongside with David, Edrisse and Favour and arraigned before the Brikama Magistrates' Court. She said they were all remanded after they were charged and arraigned, adding that she did not know the whereabouts of the other accused persons.
According to her, David, Favour and Edrisse came to their compound and put her husband and herself at gun point and they lie down on the floor and the three thereafter dragged her husband away.
She told the court that her husband later called her on the phone, informing her to get out of the compound as those three were coming for her. She said her husband told her to go to England and will meet him there, adding that she went to England, but did not find her husband and later she reported the matter to Hasting Police. She said while with the Hasting Police her phone ran and she was told that her husband went to buy cigarette and that she will not see him again. She told the court that she did not see the person who was calling her neither did she know him.
She testified at length that she came back to the Gambia with David Jenkenson and reported the matter to Banjul Police Station. She said it was David Jenkenson who was talking with the police, after which the police told her that they were going to detain her.
According to her, she learned about the death of her husband when she came back from the UK and that she never saw the corpse.
She vehemently denied hitting her husband with a pestle which resulted in his death, as well as pouring petrol on him and setting fire on him. She said she never set eyes on the remains of her late husband neither did she put the remains in a bag.
According to her, she had never got to identify her late husband's body and that she was not responsible for the death of William West.
The case was adjourned to 7th September 2009.
Read Other Articles In Article (Archive)