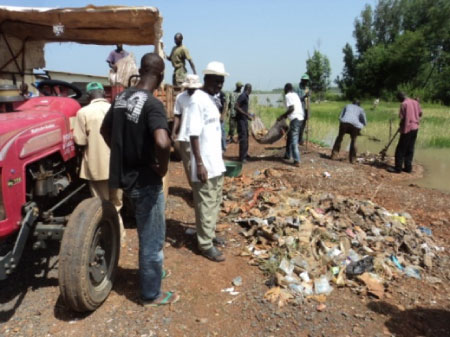 The Governor of Lower River Region (LRR) has called for a holistic approach and  meaningful participation of all and sundry in the monthly Operation Clean the Nation, known as set-setal, for the cleanliness of the country and the environment.
He said that environmental disasters and calamities know no boundary, country, region or people.
He, therefore, said that the protection of the environment is everyone`s business, including those in the provinces.
Governor Lamin Darboe was speking during the recent Operation Clean the Nation marking the International Coastal Clean-up Day at the Yeli Tenda Ferry crossing point in the LRR.
He observed that a positive environment has greater economic and health impacts on the livelihoods of Gambians and non Gambians alike, further noting that we must all work against the destruction.
He reiterated that the monthly operation aims to transform our beloved nation to a clean and healthy one for the benefit of all.
The officer commanding the police intervention unit in Mansakonko, Abdoulie Jagne, said that positive attitudinal change towards the environment is a driving force for any socio-economic development of the country, and therefore said it is a duty for each and everyone to keep the environment clean and green.
OC Jagne said his institution in their drive towards community policing will support organizations or communities who embark on the monthly exercise as the noble initiative of President Jammeh in 2004 is here to stay.
Dilating on the indiscriminate dumping by passengers or commuters crossing, OC Jagne appealed for a change of attitude from commuters, workers, sellers, fishermen, etc., to desist from indiscriminate throwing of unwanted objects, but to place them in waste bins.
He noted that such negative behaviours can lead to pollution as most of the waste end up in the river, which has serious environmental and health implications. Such negative behaviors towards the environment also deteriorate air quality, and have an adverse effect on the poor, the elderly and the children, he warningly pointed out.  
The LRR regional environment officer, Borry Mansa Demba, appealed to the local area council to help them with waste collection materials to be placed at the Yeli Tenda ferry crossing point, and also collect them as frequently as the situation required. He also took this opportunity and warned shopkeepers, vendors and sellers to close their stalls and shops during times of OCN and clean their areas of business.
Read Other Articles In Article (Archive)