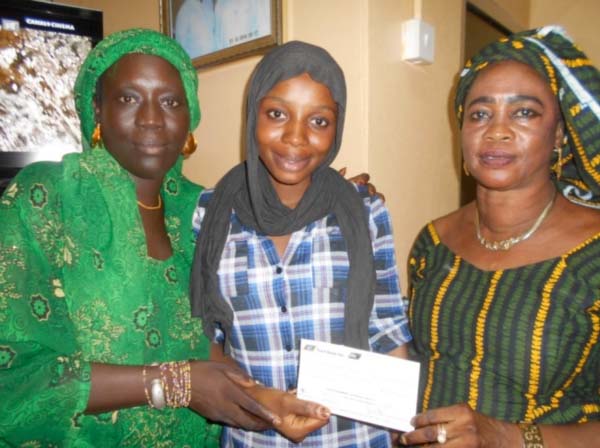 Lotto Gaming Gambia Company on Monday donated a cheque for D16,500 towards a summer camp for 60 young people between the ages of 10 and 18 from within the Greater Banjul Area.

The five-day camp is organised by Activistchat–Academy, a youth and children rights organisation based in Jambanjelly.
The Trust Bank cheque was handed over to Mariama M. Samba, founder of Activistchat–Academy, at a presentation ceremony held on Monday at LGG head office at Westfield.
The donation is meant to support the academy's 2017 annual summer camp.
Mbinko Jammeh, senior marketing manager of LGG, said as a Gambian owned company, addressing issues affecting the young people and supporting initiatives to promote their welfare are part of LGG's top priorities.
"As a result of this, when this youth organisation made a request for support from LGG, the management, especially the chief executive officer, did not take it lightly and approved it straightaway," she said.
Mrs Jammeh said LGG is "more than willing" to give support to any youth organisation that approaches it with a genuine initiative to support for the benefit of the society.
"We at LGG company are delighted to take the center stage in supporting the young people of this country," she said. "We need to contribute our quota to complement government's effort especially in the area of health, education, and youth empowerment."
"This company is not only here to make profit but also to plough back to our communities for national development."
The LGG senior marketing manager said helping the young people makes the company proud.
LGG's chief cashier Aji Sillah Ndow-Jallow reiterated that LGG is always willing to support young people, adding that all that the company needs is more prayers for the management and CEO to be able to take the company to higher heights.
Receiving the cheque on behalf of the Activisitchat-Academy, Mariama M. Samba expressed appreciation to LGG, saying the donation has come as a big delight to her and the young people who are to partake in the summer camp.
"With this donation, the summer will be possible now," she said. The aim of the summer camp is to bring children together to share experiences and expose them to various topics such as entrepreneurship, child rights, education, leadership, and modern technology.
Read Other Articles In Article (Archive)