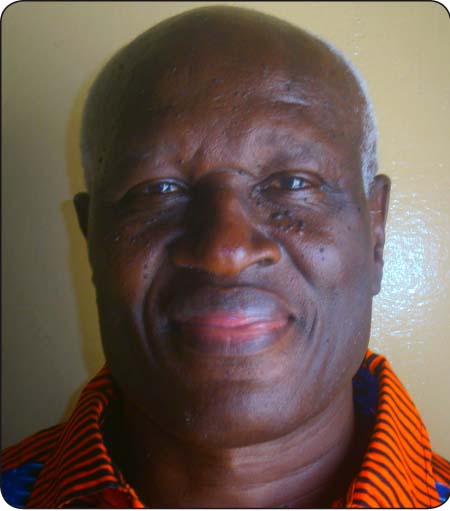 "I am the Alpha and the Omega, the Beginning and the End." (Revelation 21:6)
As a believer, we must of necessity look up to Jesus because without him we can do nothing (John 15:6) but with him we can do exploits. (Philippians 4:13)He is our Standard-Bearer, our Burden-Bearer, our Guide, our Saviour and our Be all and end all, our All in All. He alone is enough for us. He said to the apostle Paul: "My grace is sufficient for you." (2 Corinthians 12:9) In essence, he was saying, 'I am all you will ever need, for whatever adverse circumstances come your way.' The Bible teaches that "He (Jesus) is able to do immeasurably more than all we ask or imagine, according to his power that is at work within us." (Ephesians 3:20)
Who do you look up to for strength; for your daily bread; for help in time of trouble; for your peace of mind; for how to pray? Jesus is the answer - the solution to humanity's problem. More than ever, he is the one we need. He is "the Sun our Righteousness with healing in his wings." (Malachi 4:2) It is said of him; "Salvation is found in no one else, for there is no other name under heaven given to men by which we must be saved." (Acts 4:12)
Many people of his day looked up to him for healing, for relief from pain and suffering, and for deliverance from devil-oppression. Matthew records: "When evening came, many who were demon-possessed were brought to him, and he drove out the spirits with a word and healed all the sick." (Matthew 8:16) Crowds flocked in thousands to fill their hungry and empty souls with the word of God. He gave them hope and assurance for a fruitful life. Most of all, he shared the good news of the kingdom of God and life eternal. "Crowds were amazed at his teaching, because he taught as one who had authority." (Matthew 7:29) Even his disciples made the comment after he calmed the storm. "Who is this? Even the wind and the waves obey him." (Mark 4:41)
Jesus had just finished feeding five thousand people, when he dispatched his disciples by boat to Bethsaida - the other side of the lake. Whilst they were on their way he saw to it that the crowds were dispersed. Then he spent some time in prayer. By the time he caught up with his disciples they had already sailed half-way across. Suddenly, they saw someone walking on water heading in their direction. They thought it was a ghost but Jesus said to them: "Take courage! It is I. Don't be afraid." (Matthew 14:27) Straightaway, Peter asked whether he could join the Lord and it met with his endorsement. The Bible narrative continues thus: "Then Peter got down out of the boat, walked on the water and came toward Jesus. But when he saw the wind, he was afraid and, beginning to sink cried out, Lord, save me!" Immediately Jesus reached out his hand and caught him." (Matthew 14: 29-31)
As long as Peter had his eyes fixed on Jesus, he did not sink. He was privileged to defy the law of nature. But then, all of a sudden, the wind started blowing and for a second Peter's eyes turned away from Jesus to the wind, then he started going down. The narrative tells us he was afraid. Each time we focus on other things other than our Lord Jesus we lose our grip on matters of the kingdom. We direct our attention on ourselves and our weaknesses and on the things of this world which lack value and substance. Unfortunately, they take centre stage. When our Lord Jesus beckons to us and we respond that is enough incentive to succeed in our different enterprises. When however we divert our attention from him by concentrating on things that do not matter, our world begins to crumble.
As our Lord Jesus stretched his hand to rescue Peter he queried him: "You of little faith! Why did you doubt? (verse 31) This incident serves as a lesson for us. We cannot claim to be believers in Jesus Christ and still doubt when he tells us 'to go and make disciples of every nation'. When we go in our ability we are bound to fail. When we obey and go in his might, our efforts pay off.The invitation came from Jesus so we need not fear or doubt. 'But the worries and cares of this world' constitute a stumbling block.
The author of the book of Hebrews invites us; "Let us fix our eyes on Jesus, the author and finisher of our faith..." (Hebrew 12:2) More than looking up to Jesus we must look at him, focusing our undivided attention on him and him alone. There is 'no shadow of turning' with him; he does not turn either to the right or to the left. He is someone we can count on round the clock. He has not changed; "He is the same yesterday and today and forever." (Hebrews 13:8)
All who looked to Jesus found help Jews, Greeks and pagans alike. The Roman centurion who came to Jesus for help did not think himself worthy for Jesus to stop what he was doing and attend to his servant who was bed-ridden. He asked him to just say the word. He was an unbeliever who looked at Jesus and recognised miraculous power in him.
This Jesus you may not know but has heard about has the power to save and to turn your situation around. He has done it for many, he can do it for you too. Look to him!
Read Other Articles In Article (Archive)