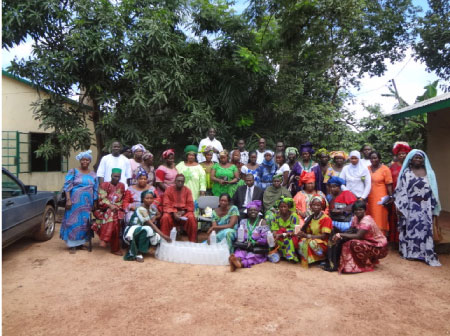 Brikama Area Council, in collaboration with the Municipality of Grand Yoff in Dakar, Senegal, and Samasang Federation, Tuesday commenced a one-week livelihood skills training for thirty women from districts in the West Coast Region on fruit transformation and preservation in Brikama.
The training seeks to empower and exposure the women to some techniques and alternatives to keep products like mangos useful.
Speaking at the opening ceremony at the Brikama Area Council (BAC), the new chief executive officer of the said council, Tamba S. Kinteh, said the objective of the training is to establish and maintain peaceful and cordial relationship between Grand Yoff Municipality and BAC through skills.
The two sides, he said, have agreed to stand by each other, while expressing hope that the training will bring to light development and lift the women from one level to another.
The chairman of the BAC, Sunkary Badjie, told the gathering that in 2007, the BAC and Grand Yoff formed a technical committee for partnership, which led to the signing of a memorandum of understanding.
The training, he said, is contained in Article 7 of the memorandum, which callS for the provision of skills training for the people of the two sides.
"Our service is to raise rates and tax and plough them back to the people in the form of development services and scholarships," he said.
The deputy governor of West Coast Region, Fatoumatta Sanyang, said "worthwhile" training is expected to bring immense development for the women of the region since and serves as a step towards attaining the millennium development goal targets.
The training, she said, would foster cooperation between The Gambia and Senegal.
Link coordinator of the project Pape Samba Ndiaye, who was also the former mayor of Grand Yoff Municipality, and Jacqueline Danielle Ndiouky, the trainer from Senegal, both expressed hope that the training would be a success for the women of the region.
They called on the participants to ensure they disseminate the information gained from the training by extending the opportunity to people of their areas.
According to them, the training is aso expected to support women and boost their economic gains.
This training, they said, aimed at exposing the women to other methods they can apply to keep the people eating mango and other fruit products from season to season, saying it is about growing and eating their own food products.
A woman councillor, Aja Ndaye Jatta, and the coordinator of the National Enterprise Development Initiative (NEDI), Landing B. Sanneh, both called on the women to put on new behaviour and be loan payment-abiding.
The training is expected to open more opportunities for women in both countries, they reiterated.
Read Other Articles In Article (Archive)