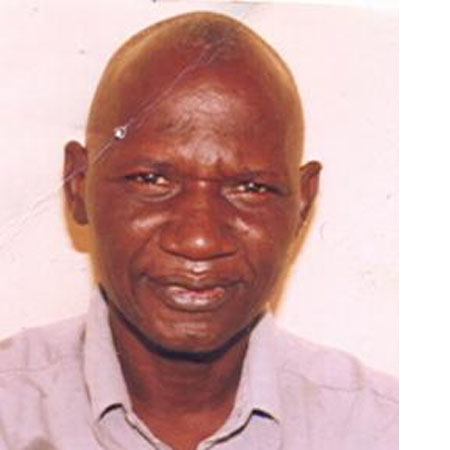 Hello and a warm welcome to yet another pleasant edition of personality of the week, your weekly column aimed at bringing prominent Gambian top notches and achievers into the limelight.
As stated in our previous edition, this column has and will continue to bring you profiles of the giants in today Gambia. In our today edition, we bring you the profile of a man who is no other person than Mr Falalo .M. Touray the dedicated Assistant Director of Extension Services at the Department of State for Agriculture. Of course some are born great, some achieve greatness and some have greatness trusted upon them but for this man, Falalo Touray a shining example in today's Gambia and has achieved greatness.
There is no denying that in the history of any country, successive generations must have individuals who serve as pillars of society, talk of the country and of course some extra ordinary men and women who provide inspiration to young up coming and promising nationals of the state. Mr Falalo Touray belongs to this phylum of people in today's Gambia.
Mr. Touray is a man whose vision and mission for this country makes him stand out as a key stakeholder in the socio-economic development of little Gambia.
The calm and down-to -earth Falalo Touray is trend setting Agriculturist and educationist whose outstanding contribution to national development covers such diverse fields as Relief Aid, Education, Health, Religious Activities, Rural and Community Development.
Falalo was born on the 13thJuly 1953 in the Southern town of Gunjur, in the Western Region. Mr. Touray today holds Higher Diploma in Farm Management and Extension as well as a Diploma in Agric Implementation Management of projects. The determined Falalo started his educational journey at GunjurPrimary School from 1960 to 1962 from there he moved to SukutaPrimary School from 1962 to 1966.
In 1966 he proceeded to Latrikunda Secondary Technical School were he obtained his School Leaving Certificate. He later enrolled into the then YundumCollege for his certificate in General Agriculture from 1975 to 1978.
In August 1988 he went to International Agric Centre, Wageningen in Holland for his certificates in Fertiliser Use and Rural Extension. In 1990 he continued at the College of Agriculture Ahmadu Bello University in Nigeria and obtained Higher Diploma in Farm Management and Extension. From 1994 to 1995 he enrolled in the University of Reading in UK, where he flew out with Msc in agriculture extension and a certificate in computer development. In August 2006 he also obtained a Diploma on Implementation Management of Projects in IllinoisStateUniversity in USA and certificate in Regulation of Micro- Finance Institutions.
Because of his hard work, commitment and love for the job and ones country he had served in various positions within the Department of Extension Services. He began his journey into the Agric Department from scratch climbing through the ladder, through the dint of diligence, discipline and determination to the admirable position of Assistant Director of Extension Services.
From 1973 to 19975 he served as Agricultural Demonstrator at village level. From 1978 to 1984 held the position of Agric Assistant. From 1985 to 1994 he moved to the higher position of Training Officer for extension worker from where he rose to the position of Assistant Divisional Agricultural Co-ordinator from 1995 to 1996.
From 1996 to 2006 he was made as Divisional Agricultural Co-ordinator for CRD north. Mr Touray was later transferred to western division serving the same position as Divisional Agricultural Co-ordinator from 2000 - 2001. As Agriculturist he also held the position of Field Co-ordinator Rural Finance and Community Initiative Project in the CRD. Mr. Touray was also a Board Member of Trustees, Trust Agency for Rural Development and while serving as Divisional Co-ordinator Tractor Mechanisation Services in CRD North from 2003 - 2007.
Mr Touray is happily married with caring lovely and supportive wives and children, he is a man who can be easily recognised in public by virtue of his humility and down to earth attitude. His friends and associates opines that he is a remarkable hard to find patriot. He is also no doubt an asset not only to this country, but also to the African continent and of course the rest of the world.
Of course his name will remain in the history books of this country as a man whose immense contribution to nation building has and continues to earn his critical acclaim both in the country and beyond. His love and attitude towards his work gives surge and confidence and spurs growth and greatness in the lines of the willing. This underlined his praise and honour as a loyal and hardworking man worthy of example.
Read Other Articles In Article (Archive)