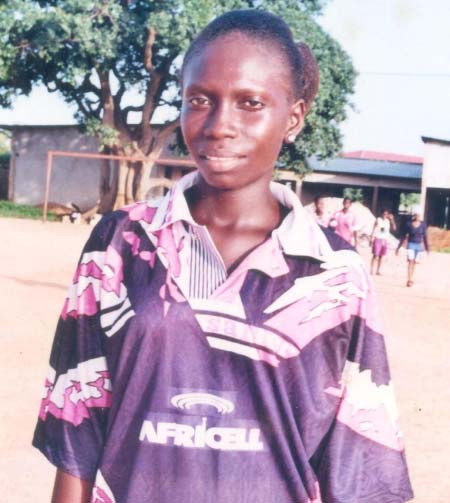 The Gambia is blessed with a good number of prospective female footballers who have made a name for themselves in the country's top tier Women's league and one such example of a fantastic talent is the Red Scorpions' versatile player Awa Jawo.
The 15-year-old teenage sensation, who can play in different positions, began her football career with childhood club Tentu FC.  And his long spell with the Bakau Sama Kunda outfit saw her win two trophies while with the club.
Shortly after making her eagerly awaited debut with the Bakau outfit Tentu FC, Jawo realised her potential and eventually caught the eyes of the GFA's top flight side Red Scorpions in 2004.
She has since developed into becoming a key figure with the team helping them clinch the GFA top flight league in 2006.
She was part of the Gambian team from Gifts Academy that travelled to Oslo, Norway, for a two-week invitational tournament called Norway Cup held in Oslo in 2005.
The Red Scorpions wonder kid (Awa Jawo) did enough to convince the Gifts Academy coaches that she deserved a place in the starting line-up and her involvement eventually paid off as her outstanding contribution in the Norway tournament helped The Gambia advance to the semi-final of the competition.
The Gambia's female team won a trophy in the first tournament but bowed out of the bigger competition amid below par performance during the semifinal clash much to the disappointment of the coaching staff at the helm.
Jawo, 15, returned home to continue playing for Red Scorpions in the domestic league together with her twin sister Adama Jawo, who also plays her trade with Red Scorpions.
There is a common adage that twin brothers or sisters are never separated and Awa and Adama are fantastic example of that fact as evident in the wonderful relationship that exists between them.
The duo joined Red Scorpions the same time and enjoyed on and off the pitch relationship something many people admired.
Awa, also known as Messi, was so influential in guiding Red Scorpions to a series of runners-up position in the GFA first division female league with her impressive goal-scoring technique.
Read Other Articles In Article (Archive)