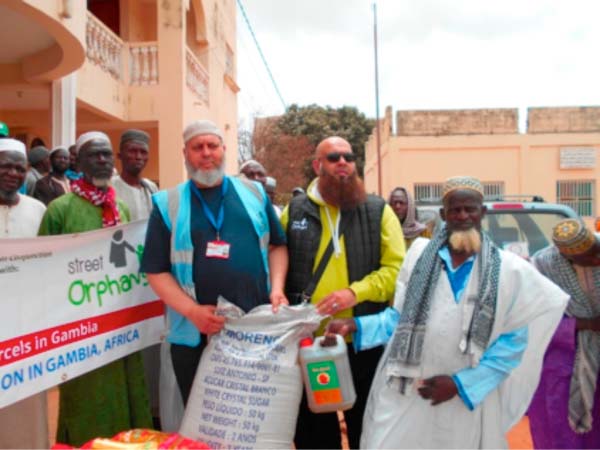 Life Aid International of the United Kingdom and Street Orphan, a Charitable Organization in partnership with Affecting Real Change recently distributed food items worth five thousand pound sterling to needy Muslims in The Gambia.

The distribution was held at the Gambia Supreme Islamic Council head office in Kanifing.
The donated food items included 186 bags of 50kg of rice, 10 bags of sugar, 80 gallons of cooking oil and 20 bags of onion, potatoes among other items were distributed to the needy.
Speaking at the presentation, Lamin F. M. Jaiteh, a local volunteer at the Street Orphan The Gambia, acknowledged and appreciated the outstanding contributions of Hassif Ousainou and all those who raised funds to provide the food items.
He said Islam is a peaceful religion and one of its core virtues is about caring and sharing with fellow Muslims irrespective of ethnic background, colour and geographical location.
For his part, Ashiq Hussain, Chief Executive Officer of Street Orphans International, expressed delight and appreciation to be able to support needy Muslims in The Gambia.
He said good brothers and sisters deemed it fitting to provide support to the needy Muslims who are really suffering in The Gambia.
He also stated that his charity would do everything possible to mobilise the resources to support their Muslim brothers in The Gambia.
Also speaking at the presentation, Nazir Ahmed of Life International UK, said they have been going around the world to support needy people, especially Muslims in Asia.
He said this was their first time in The Gambia.
"We seek funds in the United Kingdom and buy items that are worthy for use by the needy and we are glad to come to The Gambia for the first time," he said.
According to Ahmed, they would be helping Muslims, especially during the month of Ramadan, saying the charitable organization would come back to The Gambia to give support to Gambian communities.
"I am going back to tell my partners who fund me in UK that people in The Gambia need help and that I really love to help them," he said.
For his part, Musa Saidy of Streets Charitable Organization explained that it was a joint fund raising effort to help the needy.
"We really value the lives of Gambian and that is why we decided to purchase these food items and give them to the needy," Mr Saidy said.
He hailed life Aid International of UK for their support to Gambians, noting that they would be going up country to distribute food items to various families.
"We do it every Ramadan and we hope to continue it," he added.
The amount of money spent on these items was five thousand pounds sterling, equivalent to GMD300,000.
Read Other Articles In Article (Archive)