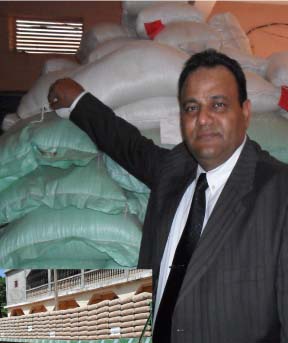 A special envoy of the people of the Great Socialist Peoples Libyan Arab Jamahiriyaa, Hassan T. Swesi, yesterday donated several food items and building materials on behalf of the government and people of Libya to the Gambia government for onward distribution to flood victims in the country.
The donation, which included two thousand bags of cement (100 tonnes), seven hundred bags of rice (35 tonnes), three hundred bags of flour (15 tonnes), and three hundred gallons of 20 litre cooking oil (600 litres), is one of the biggest single donations from a foreign country to the disaster victims in the country.
The Libyan donation also included 600 packets of corrugated iron sheets (12000 pieces) and 1700 pieces of timber. 
After the formal presentation at the office of the Vice President, who is also the chairperson of the National Disaster Governing Council, the Libyan emissary told The Point that the gesture was from the people of Libya to their brothers and sisters in The Gambia.
"I brought the items to the disaster victims in The Gambia from the people of Libya as a contribution to disaster relief in The Gambia" he said at the National Disaster Management Agency warehouse located at Latri-kunda Yeri Nganya where the items where unloaded. He also commented on the excellent bilateral ties between The Gambia and Libya. He expressed delight in the delivery of the items on behalf of his people.
Meanwhile, Libyan Embassy officials were yesterday busy with the envoy to ensure a safe delivery of the materials.
The donation was made possible through the Libyan Fund for Assistance and Development.
It would be recalled that in September this year, the Government of The Gambia declared a state of disaster, following severe flooding in the country that caused serious devastation to foodstuffs, crops and infrastructure.
Read Other Articles In Article (Archive)