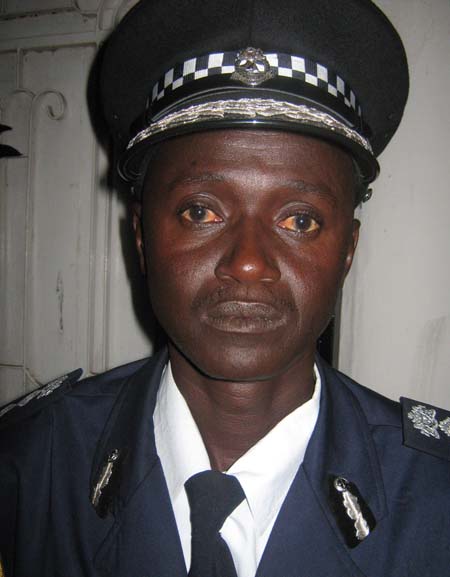 Inspector Abdoulie Sowe, a detective officer attached to Kotu Police Station, yesterday testified as the eleventh prosecution witness in the robbery trial against Ensa Badjie and Ali Ceesay at the Special Criminal Court in Banjul before Justice Ikpala.
Sowe told the court that he worked under the 1st accused, Ensa Badjie, when Badjie was the commanding officer CID in Kanifing Division.
Inspector Sowe adduced that between 2008 and 2009, while he was at Bakoteh Police Station, he received information that Soriba Condeh, alias Ramsis (PW1), was in possession of a motorbike.
PW11 further adduced that he went with some of the officers to the place, where Ramsis was said to be residing at Bakoteh. "Upon arrival at Ramsis place, we met him with the said motorbike and I effected arrest on him together with the motorbike, and we brought him to the Bakoteh Police Station," he added.
"He was cautioned and charged for being in possession of stolen property, and I later ordered for his detention," detective Sowe added.
"I denied Fatou Mendy (PW7) from securing bail for Ramsis, because she was a woman. Tony (PW8) later came to Bakoteh Police Station, and told me that he was sent by the 1st accused, Ensa Badjie, for me to release Ramsis from custody," he further told the court.
Sowe said he told Tony that he would never do that, until he received a called from Ensa Badjie.
"After sometime, I received a call from the officer commanding instructing me to immediately release Ramsis and his motorbike, because Ramsis is his friend," Sowe further told the court.
Still testifying, PW11 said: "After receiving the instruction from him, I used my discretion to release him on bail with a valid ID card. I then asked Fatou Mendy to appear as a surety, but impounded the motorbike."
Detective Sowe further told the court that when he left his office, he received a call from Ensa Badjie, asking him why he did not release Ramsis with the motorbike.
"I later came to the station and collected the ID card of Fatou Mendy, and instructed him to bring the motorbike and the case file was referred to the Serrekunda Police Station," he added.
"I took the case file and the motorbike to the 1st accused at the Serrekunda Police Station, and handed them over to him," Sowe added.
"He asked me to go back and prepare my officers because he instructed Ramsis to leave the country, but he (Ramsis) refused and he would take him to court," Sowe told the court.
PW9 Ends Testimony
Meanwhile, Dodou Janneh, alias Dou Boy, the ninth prosecution witness in the trial, yesterday ended his testimony before Justice Ikpala.
Responding to questions from defence counsel Borry Touray, Janneh told the court that he now lives at the Mile 2 Central Prison, where he is serving a death sentence after being convicted for murder
He also told the court that his appeal against the sentence was dismissed by the High Court in Banjul.
He said he could not remember the time he knew Soriba Kondeh, the first prosecution witness in the case. Janneh also denied knowing Kondeh at the City Pub.
"I joined the City Pub in 2005, but quit the same year, and joined the police force as a volunteer," he told the court.
When asked by counsel Touray whether he knows the 1st accused person's vehicle registration number, mobile phone number or his office telephone lines, Janneh responded: "I did not know any of these, and I could not remember them. I never called the 1st accused on his office line."
As to who effected arrest on him, at the time he was suspected of committing murder, Janneh in response adduced that he could not remember who exactly effected arrest on him.
Counsel then put it to him that it was the 1st accused, Ensa Badjie, who effected arrest on him, but the witness denied that, and said it was Landing Bojang who arrested him.
PW9 further told the court that he did not discuss with the 1st accused on last Koriteh day, but the day the NIA came for him. He alleged that the 1st accused ran after him, and begged him in order not to mention his name in his statement.
Counsel Touray put it to the witness that he shook hands with Ensa Badjie, and asked him to pardon him. However, Janneh insisted that Ensa Badjie told him to say the DPP forced him to make a statement against him, and that if he was free, he would assist him.
Counsel again put it to him that he (Janneh) was made by the DPP to believe that, if he made a statement against Ensa Badjie, he would be provided a state pardon, and that because that was not fulfilled, he refused to come to court and give evidence on two occasions.
In response, Janneh told the court that he was sick at that time and needed treatment, and that was why he was unable to give evidence.
The witness denied sending one Major Kuluteh Manneh to go and appeal to the 1st accused to forgive him, because he lied against him.
He also said that he came to know Soriba Kondeh in 2006, when he was introduced to him by the first accused.
Janneh also maintained that he heard the 1st accused calling Soriba Kandeh, telling him that the taskforce officers were coming for him. "I did not record it, and I could not do that because I was a volunteer and the 1st accused was my commander, and he asked me to keep quite," Janneh told the court.
The witness further adduced that he saw Soriba Kondeh driving the 1st accused person's vehicle, while he was drunk.
He said the 1st accused was among the people who arrested Ramsis when he escaped, and he (Ensa Badjie) used to buy alcohol for Ramsis with his own money.
PW9 further revealed that the 1st accused confiscated two packages of cannabis from him, which he took from Ebrima Sowe.
He also stated that he never saw the Attorney General at Mile 2, and denied having a grudge against Ensa Badjie.
The case was adjourned till 19th November 2010, for continuation of cross-examination.
It would be recalled that Ensa Badjie, former Inspector General of Police, and Superintendent of Prison, Ali Ceesay, were arraigned at the Special Criminal Court after being indicted on different counts, including conspiracy to commit a felony, robbery with violence, receiving stolen property, aiding and abetting, robbery, conspiracy to commit misdemeanour, aiding prisoner to escape, official corruption, conspiracy to defeat justice and interference with witnesses, deceiving witnesses, offences relating to judicial proceeding, and using criminal charms, among others.
Read Other Articles In Article (Archive)