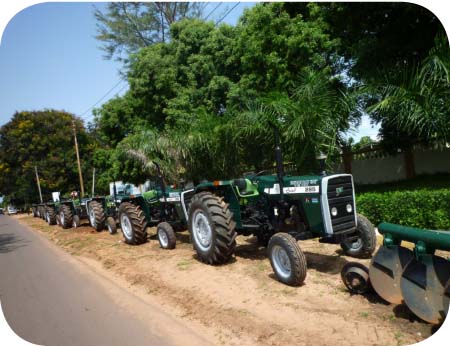 The Libyan government through it embassy in Banjul Monday handed over 13 tractors to the Gambia government.
Solomon Owens, minister of Agriculture, speaking at the handing over ceremony recalled that there is a presidential proclamation that, come 2016, the importation of rice to The Gambia would be zero rated.
"Therefore, the coming of these tractors is very timely as an appropriate intervention in rice production through mechanization," he added.
The minister of Agriculture then announced that "the 2016 initiative will require an increased area under rice production by 32.5 percent, that is, from 66,380 hectares to 87,984 hectares by 2016".
"Thus, if The Gambia is set to become food self-sufficient, cultivation methods will have to change from manual farming to highly-mechanized operations.
"In addition, complementing factors like irrigation; the use of advanced agronomic techniques; improved seeds and fertilizer use, as well as untapped land areas and water reserves will all have to come into play," Mr. Owens further stated.
The Agriculture minister added that "these tractors will form a major component of our agricultural production input", and help in putting more land into production.
Such machinery will also reduced drudgery in farming activities, improve the timelines and efficiency of farm operations, as well as accomplish tasks that are difficult to perform without mechanical aid.
Minister Owens went on" "We are aware that Libya is investing a significant share of national revenues in agriculture through the use of machinery and labour-saving implements."
Speaking at the same ceremony held at the Libyan Embassy in Fajara, Dr Ibrahim AA-Abusheriah, charge d'affaires at the embassy, described handing over the tractors as "a gesture of goodwill, recognition and appreciation" from the Libyan people to the people of The Gambia.
Dr. AA-Abusheriah recalled that on 22 April 2011, the Gambia government in a statement came out openly and strongly in support of regime change in Libya.
"This timely and decisive stance…affected a change in the noncommittal position of the African Union, thus quickening the pace for the birth of the new state of Libya…We will never forget that paramount stance…," Libya's top diplomat in Banjul declared.
Read Other Articles In Article (Archive)