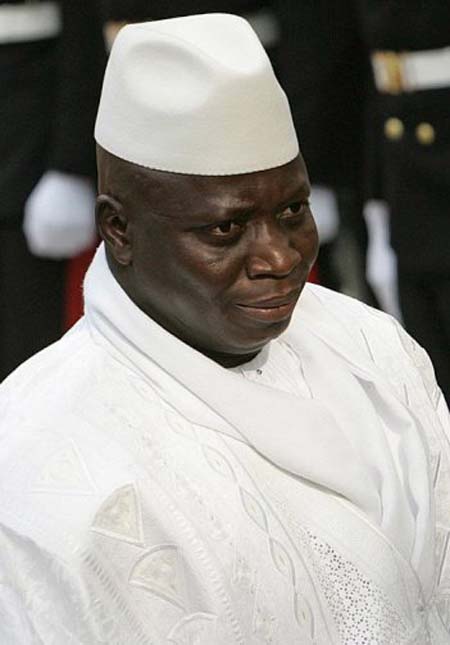 The Gambia Friday 18th February celebrated 46 years of independence with President Yahya Jammeh renewing his call for Gambians to forget about tribes, religion and politics and unite to build a better Gambia that the whole world would be envious of.
The celebrations, which were decentralized as in previous years, took the form of a marchpast by school children, security forces, voluntary organizations, and cultural groups.
In a statement delivered on his behalf by mayor Samba Faal of Banjul and mayor Yankuba Colley of the Kanifing Municipality and Governor Lamin Sanneh of West Coast Region, where celebrations took place, President Jammeh stressed that no divided nation can ever be a great and prosperous nation, and it can never be an economic superpower.
While appreciating the external support that The Gambia receives from its friends and partners in development, President Jammeh noted that "it is simply suicidal for us as a nation to rely entirely on these sources with arms folded, and expect that we will become an economic superpower and the best country."
"Such a tendency is, undoubtedly, as unpatriotic as it is unsustainable, and will lead us to nowhere but into the abyss of greater dependency and poverty, to say the least," he said, adding that "these support can and will always be a complementary to our own dedicated and unified efforts at national development".
Jammeh also called on students to ensure unity and patriotism, as this is even more relevant to their social transformation into their future duties as the country's productive force and future leaders.
The Gambian leader also called on them to take their studies seriously and remember that for as long as they are ready to study, the sky would be the only limit to the support that government will provide.
"You must have positive attitudes towards your parents, teachers and the authorities and, equally important, amongst yourselves," Jammeh said, adding that in this way, not only would students endear themselves to all as good children and good citizens, but also be counted as those that would be contributing to the building of a better Gambia.
President Jammeh described as apt and highly relevant, the choice of this year's theme, noting that it is one that "requires every Gambian, young and old at home and abroad, to take a deeper reflection of what it takes to achieve our national vision, and even surpass the development targets that we have set for ourselves over the years".
"Today, we should also be basking not only in the glory of what we have been able to achieve together as a nation, but also in the hope that we can achieve even better with renewed commitments, patriotism and honesty in coming years, especially as the Vision 2020 time line is drawing closer and  closer by day," Jammeh asserted.
In his view, "we cannot achieve anything meaningful as a nation, if we are not united in purpose, and if whatever we do is not based on the foundations of thorough patriotism and strong commitment to the cause of nation-building".
He went on to call on all to "jealously guard and protect what belongs to us, as well as deliver services required of us by virtue of our designations with honesty and dedication".
According to President Jammeh, "patriotism requires that we perform our duties to the utmost whether or not we are being watched by a superior authority".
"A nation that is united because of the patriotism of her citizens is a nation that will always succeed in this 21st century and beyond," he added.
He noted that united by purpose, patriotism and faith, the Gambia will soon become an economic superpower, as it is endowed with all that is needed to propel into greater prosperity.
"The objective of my Government is and will always be to make The Gambia the best in the whole world. This objective is no longer a far fetched dream, but a reality... All what is needed is a united and a patriotic citizenry."
Meanwhile, independence celebrations will also take place in other parts of the country.
Read Other Articles In Article (Archive)