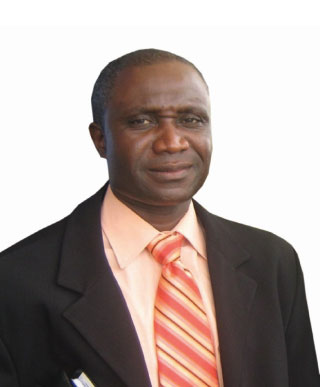 "Let us stand firm and support our young people. I don't believe in the sky is the limit, I believe in infinity," says newly appointed Youth and Sports Minister Henry Gomez.

"There are so many youths out there who feel they have been left alone and they need our support. We have to fight for them as a matter of must and in this we cannot fail," he told his staff during his tour of institutions under his purview, on Thursday a day after he was sworn in.
Hon. Minister's visits took him to the National Youth Council (NYC), National Enterprise Development Initiative (NEDI), Directorate of Planning, National Sports Council (NSC) and other satellite institutions.
The tour was meant to familiarize himself with staff members of the various offices, seek their full support and also disclose his plans for the ministry and the development of youth and sports.
"I am for the youth by the youth; I have come to youth and sports to teach youth how to fish, but not to give them fish," Hon. Gomez said.
"I would want to build skill centres across the country to support youth to have livelihood skills that they can use to earn income," he said.
He challenged the staff members of his ministry and satellite institutions to change their attitude and work together as one family.
"I don't come to this ministry as a witch hunt against anybody; all of you are my brothers and sisters. My doors are open and also open to constructive criticism," he told his staff.
"We have to fight and minimize irregular migration (back-way migration) and drug abuse among young people in the country. These people are our future leaders and they need to be supported and empowered," he said.
The sports minister said one of his aims is to seek for donors and partners to renovate or even build a new stadium and decentralize football taking it to rural Gambia.
"We have to take this country to the next Africa Cup of Nations and even World Cup," he said. "If we can work together and remove a dangerous dictator like Yahya Jammeh without any bloodshed I do not see any reason why we cannot achieve this," he said.
The minister reported to the office a day after he was sworn in to meet with staff, boost their morals, encourage them and plan with them the way forward.
"Since he reported he wasted no time to engage us and also start conducted tour of the other offices under him," said Youth and Sports Ministry permanent secretary Muhammed Lamin Ceesay.
"He conducted a meeting with us at the ministry and put to us his plan and we assured him of our unconditional support and I am seeking the same from all of you," the PS told staff of satellite institutions under MoYS.
He added: "You are blessed with a pool of human resources who are ready to work and help you achieve your goals."
PS Ceesay challenged all staff of the ministry to work hand in hand with the new minister and support him and the ministry.
Mr Landing B. Sanneh, general manager of National Enterprise Development Initiative (NEDI), congratulated the new minister and assured him of their unconditional support.
"We are very much committed to working with you in helping you achieve your goals of youth empowerment and development of sports in The Gambia," he assured Minister Hon. Gomez.
Mr Sanneh gave the minister a brief background of the institution and highlighted some of their intervention areas.
Musa Mbye, director of Directorate of Planning, highlighted some of their mandates and assured him of their full support to see a successful ministry achieving its goals and objectives.
Read Other Articles In Article (Archive)